The spring planting season has gradually begun. The purchase of new farm two-way radio can improve the efficiency and convenience of farm work. It will also save money in the long run.
Mobile radios
Agricultural vehicles are noisy and can only use communication tools to contact drivers and workers, so the car radio can solve this problem by talking.
RB86
It is an IP67 waterproof and dustproof  GMRS mobile radio. You can use it for a long time if your truck or tractor with no door. And the numeric Mic can help you operate the radio quickly and conveniently. Do not forget to add an antenna to your cart. And you can check the bundle on our website.
This is an integrated GMRS mobile radio. An integrated Microphone, a small antenna, and a car charger adapter can work out of the box. It is a very simple and loud mobile radio on your car. And here is a review video by Farpoint Farms on YouTube.
RA25
If you are in other countries that cannot use the GMRS radios. The dual-band mobile radio RA25 is very popular among farmers. It is very small to install on your car. And there are many videos to help you operate it in working.
Handy radios
Workers not on board need to use portable hand-held walkie-talkies. The handheld radio has a back clip to attach to the belt. It's lighter, smaller, and can be used with headphones and a microphone to make communication clearer and louder.
RB23
This is the first IP67 waterproof and dustproof  GMRS handheld radio. When you work on the farmland, the dust and earth are everywhere, so the feature can protect your radio from working for a long time. And the GMRS radio works on 5W, so you can reach 1.5-2 miles in an open area.
RT29
It is a long-range radio that can reach 4+ miles in an open area. And it is also a dustproof radio with a sturdy shell. If you have a license to transmit on the UHF or VHF band, RT29 is a good radio for you.
RT67
No radio license? RT67 is a license-free radio in most countries. It is small but can work for a super long time. If you hunting far away from your home, this is a useful radio to keep you online.
Repeater
A repeater is a good option if your farm is outside of the communication range. A repeater can receive a signal, amplify it, and send it to the receiver.
RT97
10W high power repeater on GMRS frequency band, UHF band, and VHF band. And you can also customize the center frequency of the duplexer. It is a portable and small-size repeater for your farmland. And we also have a digital version of RT97P.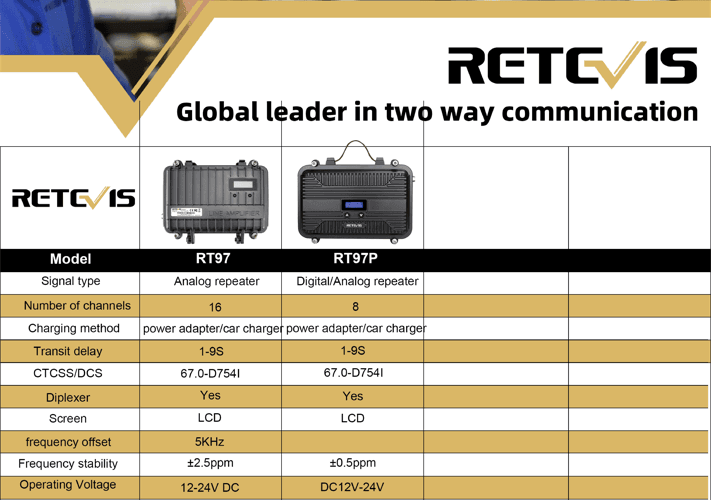 We have bundles of an RT97 repeater and RB23 radios.
Like MOTOROLA promised its customers when it introduced business walkie-talkies, two-way radio calls can improve work efficiency and employee job satisfaction, so the walkie-talkie has become the most important communication tool in business.