Mini and Lightweight License-free Radio RT22, lots of customers like this model because of its size. It is the license-free two-way radios, the PMR446 band model RT622, and FRS band model RT22.
It is the Mini walkie talkies with Full-featured, small, lightweight, excellent sound quality, and good range. With the battery 1000 mah Li-on, belt clip, USB charging cable.
RT622: PMR446 band, usually comes with 16 channels, with the fixed and can't removed antenna, the output power less than 0.5w. With the fixed frequencies from 446.0-446.1mhz.
RT22: FRS band, Comes with 16 channels, with the fixed antenna, the output power less than 2w.
The best choice for Family/Outdoor/Business/Scouting
1, RT22 has no display or programming keypad, then you or your team or family member will not change any settings, and without the display, it will save power, and make the standby time longer.
2, Small size: you can fit it anywhere.
If you use them outdoor, hang on your backpack or put it into your side pocket. Very easy to carry them.
And small size also fit for kids. For scouting, there are lots of children, they need to learn how to use the two-way radios to make communication. If they use the ham radio, it will be very difficult and hard to control. This small and mini license-free radio, hold it easliy.
Below pictures were shared by one of our customers. From the below pictures, we can know clearly about the size of RT22.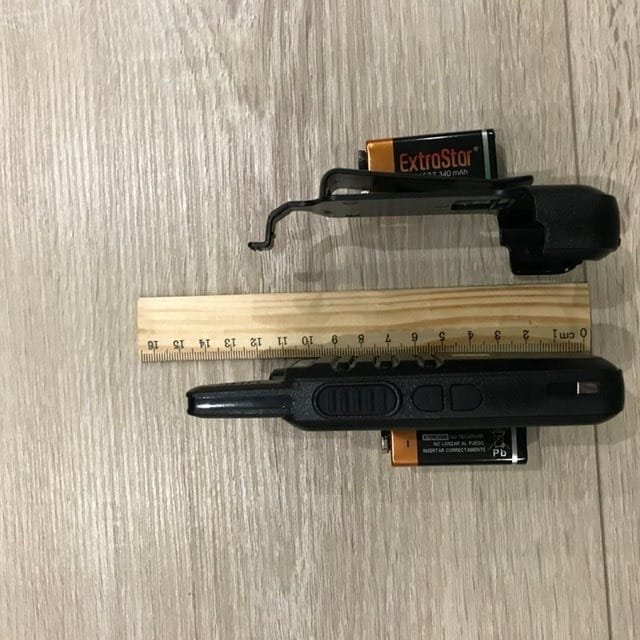 3, License-free band radios
For lots of family outdoor activities like camping, hiking, skiing, especially with the kids outdoor, it is impossible for every family memebers own the smartphone. Also the cellphone is very expensive and will cost monthly fees. But the license-free radio won't be charged. You can talk to others just press the PTT. Very handy to keep around for quick use
4, Can be recharged with any mini-usb cord.
5, RT22 has the VOX function with the radio for hands-free use. If you use the earpiece, turn on the VOX function, you can easily to talk when radio on your belt without pressing the PTT.
6, When on a hike and the front and back of the line were not within view of each other, RT22 will be very helpful.
Retevis RT22 is the license-free radio, no need to pay for money to get the license, the inexpensive, small, lightweight, excellent sound quality and good range two-way radios.
Any question about Retevis RT22, please feel free to leave messages below.