When you visit the construction site, you will find almost every worker, or at least every worker leader, with a two-way radio attached to their belt. So how to choose the best walkie talkies for construction site?
There is no doubt that walkie talkies are widely used on construction sites.
Because:
Effective communication is very important for collaborative work.
Keep your worker safe. Instant communication is very important during construction process.
Communication is convenient, saving time for running back and forth.
How to choose the best walkie talkies for your construction?
1,  UHF or VHF band?
There also have more dual band(UHF and VHF) radios in the market, but if you don't need to use both, choose a single band will be better.
so how to choose the radio band?
Consider your environment when choosing which frequency you'll need.
If you use your radio inside the buildings, or there are many obstructions around you, then the UHF radio is best. These radios work well for business such as hotel, restaurant, schools, office building and etc.
VHF band radios work well when used outside on open land or rolling hills with few trees. If you use the radios for a business like farms and ranches, golf courses,
2, Digital mode or Analog mode?
In the same environment, digital mode with the longer range and better voice. You should consider your contruction size and your team size.
If you don't have too much budget on radios, choose the Analog mode radio will be your good choice. If you choose the analog mode radio, please don't worry about the range, if the handheld radio can't meet your communication range require, you can build a  repeater.
If you don't care about the budget, you can choose the digital mode radio. Offer you further distance communicate.
3, Waterproof and dustproof
Radio with water and dustproof feature is very important. There are lots of dust on the construction site, and will use water all the times, so choose the waterproof and dustproof radio, let you no worry about these.
4, Long standby time battery
Usually you will use the radios the whole day, choose the long standby time battery will not affect your work. If possible, you can also order some Multi-ways chargers, help you to save charging time.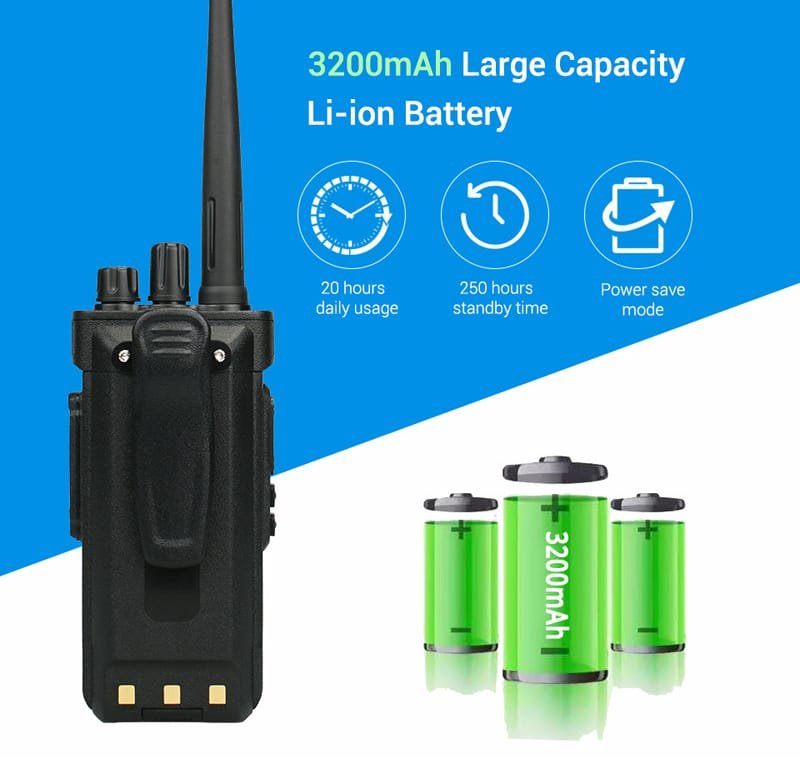 5, Emergency alarm function
Lots of radios have the emergency alarm function, when your worker meet the emergency case, only need to press PTT, your radio will ring the alarm, and inform you what happened in time.
Some radios also have the on ground alarm function, when your walkie-talkie falls to the ground, as -+60 degree or -+90 degree, the radio will ring the alarm and the standby channel will receive the alarm. Like our Retevis radio RT50.
Before choosing the radios for your construction site, you can consider these factors. This will help you to choose a best best walkie talkies for construction site.
Recommend best walkie talkies for construction
1, Cost-effective Analog mode radio RT29
High power analog radio with 16 channels, waterproof and dustproof IP67 grade, with the 3200mah long-standby battery, single band UHF or VHF two way radio.
If you will build the repeater in your construction site, we offered the programming software for you to set the repeater mode easily.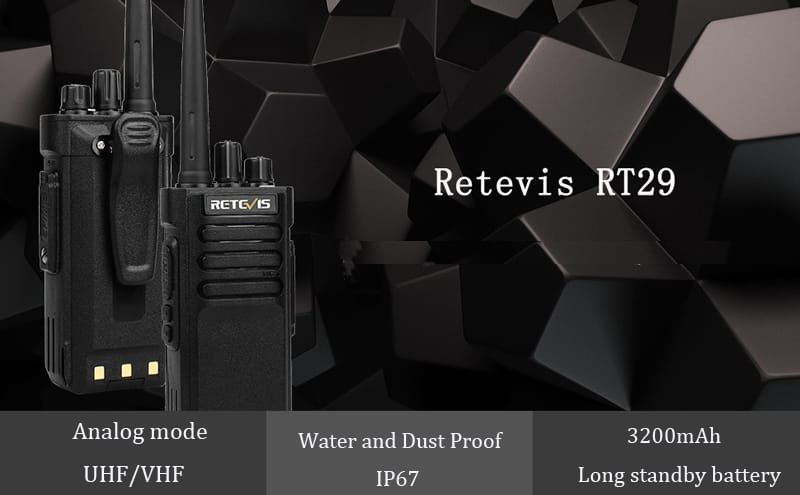 2, Economical and Practical DMR radio RT50.
As the best DMR radio for business, Retevis RT50 with the high power, digital mode and analog mode, waterproof and dustproof with ip69 Level, Hidden display with digital tube character, it will show the working channels, easy to help you find the right channels.
Hope this blog will help you to find the best walkie talkies for your construction site. If you want to know more about the features about our retevis radios, please feel free to leave messages or contact us by:
Facebook: www.facebook.com/retevis
Instagram: www.instagram.com/retevis_com
Email: partner@retevis.com