RA27 how to set up MMSI?
Retevis RA27 is a Fixed Mount marine radio, its frequency is VHF band. It has GPS and IPX7 waterproof function. It is a small and compact radio, which will not take up too much space and easy to install.
For a newly purchased RA27, to set the MMSI code, just follow the steps below:
1. Press the P2 key + OK key to power on, and press the [MENU] key to enter the menu mode.
2. Select "MMSI Input" from the menu, press the [OK] key, the radio enters the "MMSI INPUT" input interface, and you can start setting the MMSI code.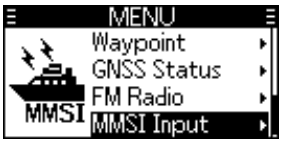 3. Follow the steps below to enter the MMSI code:
The number to be entered can be selected by pressing the [◄]/[►] keys on the transceiver.
Press the [OK] key to confirm the number to be entered.
Select "←" and "→" in the lower left corner of the screen to move the cursor of the MMSI row. If you want to change the entered number, you can move the cursor to select the number to be changed, then re-select the number to be set, and press [OK] to confirm . You can also press the [CLR] key to cancel the setting and exit the "MMSI INPUT" input interface. The "MMSI Input" menu disappears after canceling the setting or after completing the setting.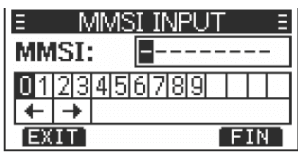 4. Repeat step 3 to enter all 9 numbers.
5. After entering the 9 numbers, press the soft key [ ] to confirm.
6. Enter the MMSI code again to confirm.
If you have any question, please feel free contact us.