Play Hide and Seek with Retevis Kids Radio RA18
Catch this Spring Tail to Play Hide and Seek with your children. And don't forget to take a pair of Retevis Kids walkie talkies.
Kids Walkie talkies are lots of fun and allow your kids to play games. They can talk to each other from all over the house, around the garden, or with their friends at the weekends. These are lots of different types of toy walkie talkies for kids. Here I will introduce Retevis RA18 and Retevis RA618.
It designs with the children favourite colors, pink and blue. Lots of kids will choose these two colors, because kids love them. Usually Boys will choose the Blue and Purple color, and Girls will choose the pink color.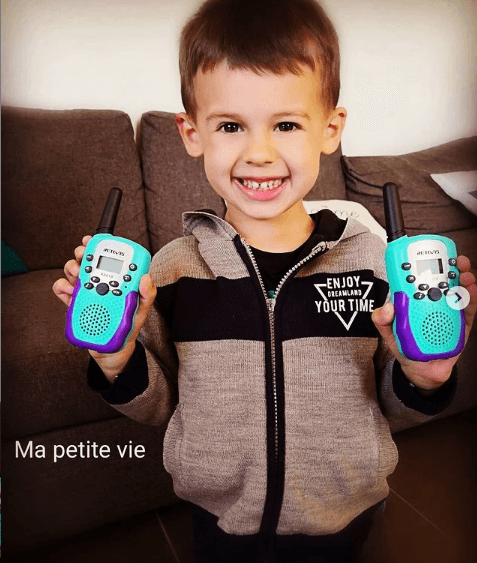 You can spend your whole family time with your kids outdoor and play the hide and seek.
1, Easy to hold, carry and very durable.
The small and light body allows kids to use them easily. Weight just around 90g for one walkie talkie RA18. They are really light. This makes them easy to carry. They fit comfortably in children's hands because of their ergonomic design. Comes with the belt clip on the back to attach them to clothing or bags.
Also they are really durable. Can easily handle the bump or fall.
2, Easy to use
Retevis RA18 outdoor kids walkie-talkies are really easy to use. Have an uncomplicated Push-to-Talk Button. Children over the age of 3 can learn how to use it very quickly. kids love the "CALL" button feature because it will sound the rings and send the rings to other kids two-way radios.
3, Retevis RA18 are the long range kids walkie talkies.
Our Kid's walkie-talkies are not only toys but also real two-way radios.
Usually up to 3miles long transmitting range. Even if you go pretty far for outdoor hide and play, you can confirm without them disconnecting.
They are a perfect first walkie-talkie for a child as the speakers.
4, Built-in flashlight
Kids will be excited when they open the flashlight with the dark early nights. It is a nifty little feature. Mom and Dad always do some " adventure" games with this feature.
Get one pair for your kids, and help your kids outside and enjoying the outdoor. Play Hide and Seek with Retevis Kids Radio RA18
Any question, please feel free to contact us: partner@retevis.com