Portable analog repeater RT97 default has 16 channels.But for some customers, they may need frequency more than these 16 channels. After your customization or you choose stock frequency of RT97, if it's possible still to do repeater RT97 programming?
The answer is yes!
You just need repeater RT97 programming in software is ok. Steps as below:
1.please download RT97 software from Retevis official website freely: https://www.retevis.com/resources-center/
2.First USB universal driver, then RT97 software.
3.Choose the communication port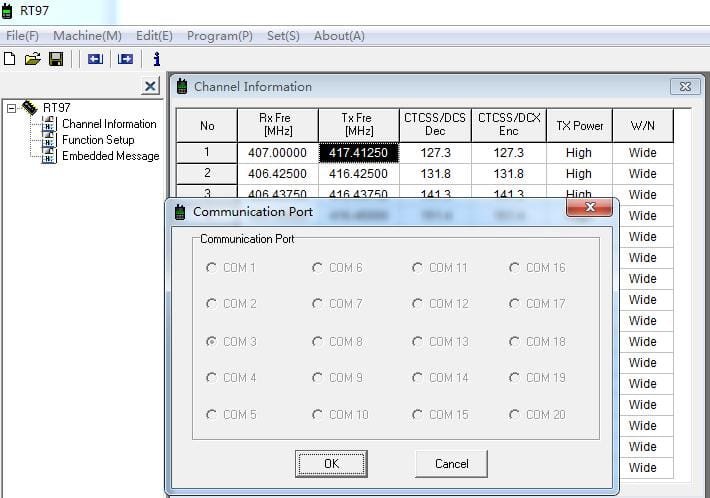 4.click read from radio. You will get default setting of RT97.(below is  a customized frequency)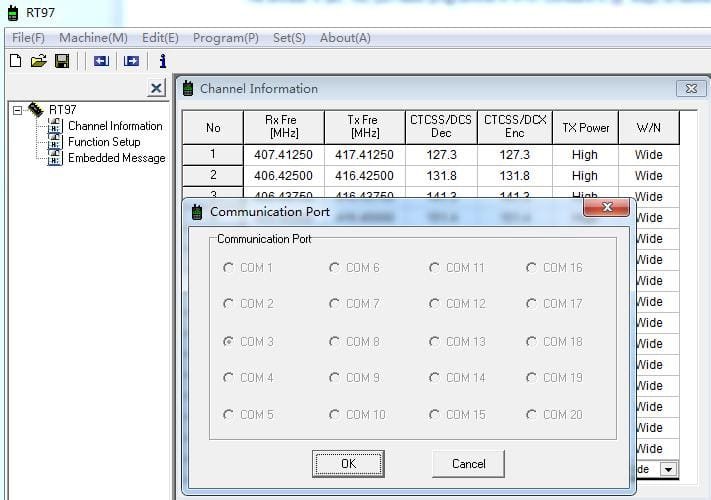 Above settings is default setting of one Customized RT97.
RT97 stock default setting is.
UHF: RX: 453.31250Mhz TX: 463.31250Mhz
VHF: RX: 152.61250Mhz TX:162.61250Mhz
5.In RT97 software, the RX frequency and TX frequency. Both can adjust within +/-1Mhz. (the best effect is adjust 1Mhz)
But please remember, receive should adjust with transmit in same direction. To make sure TX and RX still have previous offset.
Such as adjust channel 1 to:
RX: 406.41250Mhz TX:416.41250Mhz
This way, you will have more frequency choices to use for connecting different commubnication groups.
Finally: click write to radio. Save the frequency you saved.
After programming in RT97 to change different frequency, you need also programme in corresponding walkie talkie software to matching the repeater communication channels.
Some customers may be curious why RT97 has 16 channels, and sometimes need programme more? Please check relative blog: why RT97 analog repeater has 16 channels for your reference.
Any other questions about RT97 programming, please post your questions below or email us. Thanks!