Waterproof Walkie Talkies?
When it's cold or rainy from damp or cold conditions, you desire the weather resistance walkie talkies. And wherever you are on or in the water, such as Boating,Kayaks,Beach Vacation and Swimming. Different walkie talkies come with different waterproof ratings. If your walkie talkies could be used in all types of weather, either on land or at sea, then you have to invest in waterproof walkie talkies.
IP67 walkie talkies are definitely your best buy choice. What's IP67?  Meaning that it's protected from harmful dust, as well as submersion in water up to one meter deep for up to 30 minutes. Just like iPhones : iPhone 8, iPhone 8 Plus, iPhone X and iPhone XR,which have an IP67 rating. Further details about IP67, pls read more here:  https://en.wikipedia.org/wiki/IP_Code
Long Range Walkie Talkies?
Obviously, long range waterproof walkie talkies will allow you to communicate even with longer distances,especially you need help urgently. It will give you the confidence to wander all over the wild knowing that you will be in touch with your team at all times.The range of coverage increases with power usually. so, for example a 2-watt radio can cover up to 5 miles, while a 4-watt radio can reach up to 10 mile. Usually a higher-watt radio probably could reach farther. Long range waterproof walkie talkies are an excellent option in areas that are out of mobile network coverage. They are indispensable for people who decide to go hiking or venture into other outdoor activities.
Long Range Waterproof Walkie Talkies?
Save your time with our 4 long range waterproof walkie talkies best buy! Ready to get started? Let's take a quick look below!
TOP 4: RETEVIS RT55, it is the best VHF Marine Radio-IP67 waterproof 2 way radio with floating.
TOP 3: RETEVIS RT29, it is the best budget walkie talkie-IP67 analog waterproof 2 way radio.
TOP 2: RETEVIS RT81, it is a IP67 digital waterproof walkie talkies.
TOP 1: RETEVIS RT50, it is long range walkie talkies best buy- IP67 digital waterproof 2 way radio with led hidden display.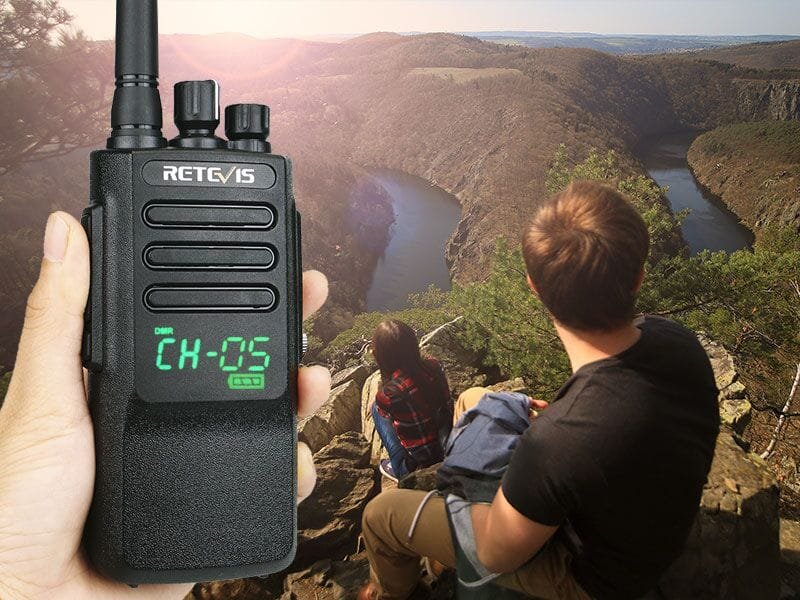 Note: The communication range declared, is calculated based on an unobstructed line of sight test under optimum conditions. Actual range will vary depending on terrain and conditions, and is often less than the maximum probably. Your actual range will be limited by several factors including, but not limited to: terrain, weather conditions, electromagnetic interference, obstructions and others.
Feel free to Leave a comment below, to get your pro suggestions, especially tell us your application scenario,including a radius value and terrains.