Active your MURS radio RB38V Emergency Alarm function is very  important.
MURS radio is the license-free band, and with the frequency range on VHF 151MHZ. Usually VHF waves are longer and stick closer to the ground. So for lots of outdoor adventures which traval in forests and hills, they will choose the VHF band. Also VHF is the preferred radio bad for marine communcations. So lots of the boating enthusiasts and fisher folks will choose the MURS band, because MURS radio don't need the FCC lciense.
Also there are lots of people will choose the MURS band radio, such an farmers, security monitoring outdoor site, paintballs and hunters……
So when you use the MURS band radio outdoor, if you want to remind of your partners or send the alarm sound, how to do with your radios.
This blog will introduce how to Active your MURS Radio RB38V Emergency Alarm? Retevis RB38V is the license-free MURS band two-way radios. It has the Emergency Alarm. And it is very easy to active Emergency Alarm.
1, Download Software
A, You need to download the software Here: Click 
B, Choose support, choose firmware/software to download the RB38V software
C, Order the USB programming cable here: Click
2, Set the sidekey button as the Alarm.
ike the below picture. Set side key1 or side Key2 as the Remote Alarm.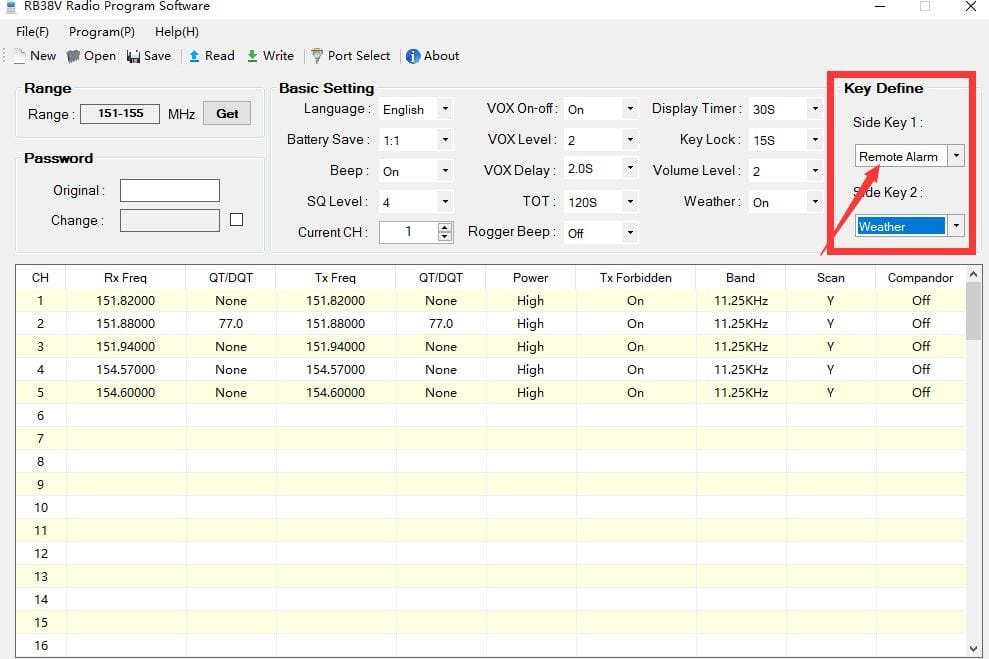 3, Send the Alarm sound to your friends.
First, you need to make sure you both can talk with each other by radios. Then press the side key1 button, your radio RB38v will sound the alarm, and your partner's radio will also sound the alarm.
Done! It is very easy!
Any question, please leave comments below or email us: partner@retevis.com