Choosing the Perfect Antennas for Your Off-Road. If you are looking for a mobile antenna for your Off-Road, you may consider Retevis's Lastest Mobile Antenna MR300 and MR400. These two models are all mobile radio, heavy-duty mobile radio antennas.
MR300 is a high-gain mobile GMRS antenna for your GMRS mobile two-way radios. It is specifically tuned for 462MHz frequencies on the GMRS and designed for mobile GMRS two-way radios, including the Retevis RA87, RA25 GMRS mobile Radios, and other brands of GMRS mobile radios.
MR400 is also the High-Gain Mobile Antenna for lots of dual-band mobile radios. This version is the VHF and VHF band antenna. So if your mobile radio is dual-band or single-band, you may choose this version MR400.
Why MR300 and MR400 are the perfect Antennas for Your Off-Road?
1, Fiberglass antennas
Yes, MR300 and MR400 are all Fiberglass antennas.  As we all know, Fiberglass antennas are usually the best choice for 4×4 and off-road drivers. They're the most durable type of antenna and hold up best to the rigors and abuse of off-road use.
2, Heavy Duty Offroad Style Antenna With Spring
For 4×4 and off-road, when driving, with wind, and in situations when obstacles such as tree limbs, the normal antenna will be broken. And if your antenna has a spring, it will protect the antenna, mount, and vehicle.
Great for off-roaders, farmers, hunters, and more
3, High Gain Antenna
The High-Gain 6.5dB, will help you to reach a further range.
So if you are looking for a durable mobile antenna for your mobile radio, MR300, and MR400 will be good choices.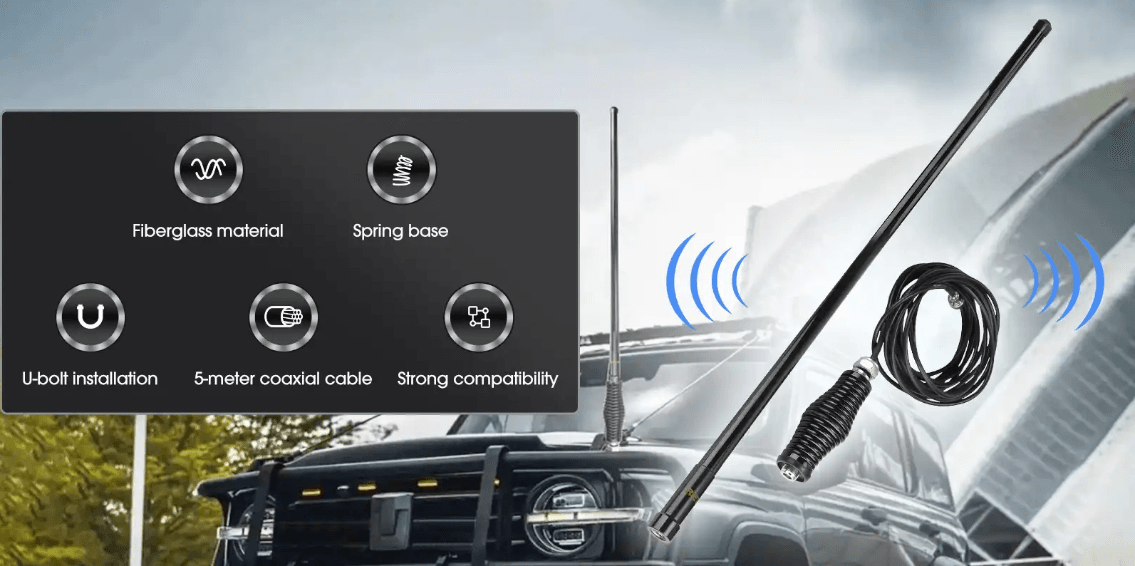 For more information about these two Heavy-Duty fiberglasses Offroad Style Antenna With Spring, you may visit our website: https://www.retevis.com/mr300-1200mm-heavy-duty-fiberglass-radome-gmrs-antenna-us