How to write Retevis RT3 frequency manually?
Retevis RT3 is digital radio with both digital model and analog mode. As DMR radio, Retevis RT3 is loved by many amateurs. Sometimes, you are not beside your computer or may not have a programming cable available at hand, so write Retevis RT3 frequency manually on the LCD keypad is so convenient.
Now let's discuss together the steps to write Retevis RT3 frequency manually:
Step1: before writing on keypad, you must make sure the "Program Radio" tab is clicked √ in RT3 programming software before, to allow you to write frequency by hand. For parts of RT3 which we sold early before, this √ is not clicked, but for RT3 products selling later, we have already make it a default setting(with √ clicked on Program Radio tab).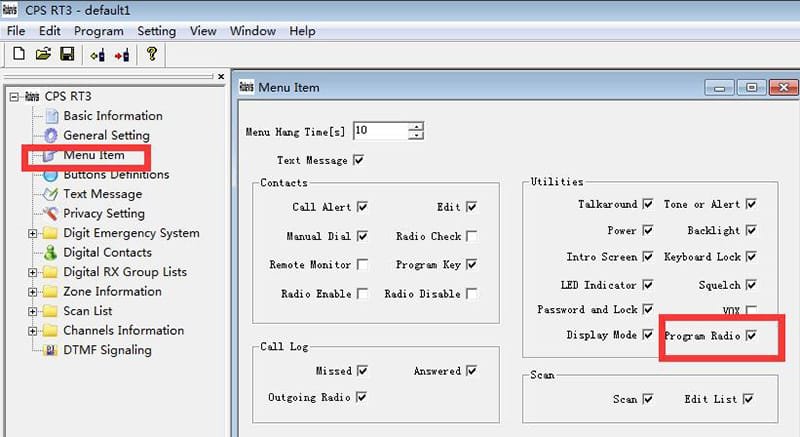 Step 2: turn on the radio
Step 3:Menu—Utilities—Program Radio
Step 4:Program Radio—press "confirm" to enter—Enter Default Password 00000000(this is original password when leaving factory, if you've changed the password, then use the new password you setted please)
Step 5: In put Rx Frequency, Tx Frequency (please note the "up"key is to delete the data when you input by mistake) Channel Name, Time out Timer
Step:6: set the color code(default model in each channel is in digital mode)
Step 7: set the repeater slot
Step 8: choose the rx contact(contact information should have been set in CPS software before)
If by any circumstance, you set the channel mode to analog mode before(RT3 digital model and analog mode can only be switched in the programming software), then then when you want to change the frequency manually, you need set the CTCSS/DCS accordingly.
Then after writing all data ok, RT3 radio has been written frequency manually successfully. Actually, for almost all Retevis radios that has a LCD display, we can write the frequency manually. Wanna know how to write the frequency for other Retevis Radios manually? Please send email to kam@ retevis.com, we are always here to support you! Thanks!