When you need a kids walkie talkie you need to think about all the situations that you might use them in. This will help you to work out which features are going to make sense for your family.
Here are some ideas:
1.Camping
Giving the kids some freedom around a campsite and allowing communication between different family members.
2.Hikes and other outdoor activities
Sometimes it makes sense for a group to split up. Maybe your younger child can't cope with the full route. The kids walkie talkies can help everyone to keep in touch and meet up again.
3.Theme parks, festivals and other big events
Just in case a younger child gets separated from a group or to allow different group members to do their own thing for a while. Allowing kids to have some independence. It's nerve-racking to for parents when their children make those first lone trips to the park or to a shop. Being able to keep in touch allows for a more gradual transition. For younger kids it's great to be able to allow them to go on a little way ahead during a walk.
4. Around the house and garden
We've kept the baby monitors that we had when our children were younger and have used them like walkie talkies. A little lazy perhaps! But handy for calling the kids down when their food is ready or reminding them what they went upstairs to get. The kids Walkie talkies can be used in this way too. Kids enjoy using walkie talkies as part of their role play. There's lots of fun to be had when cousins or friends come round to visit.
Three models Retevis kids walkie talkie for option:
RT388, the most classic Retevis kids walkie talkie, five colors for you providing variety color requirement, meanwhile RT388 kids walkie talkie is rechargeable to keep the battery cyclic utilization
RT388: https://www.retevis.com/upgraded-388-walkie-talkie-rechargeable-batteries-two-way-radio-for-kids/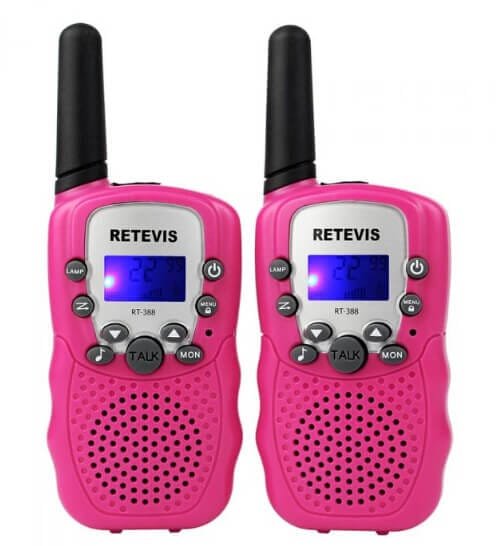 RT75, The unique compass design and bright green
RT75: https://www.retevis.com/rt75-rt675-compass-walkie-talkie
RT38, Super lightweight(Only 90g) and Long range outdoor walkie talkie for kids and family
https://www.retevis.com/rt38-frs-children-s-walkie-talkie