Unique apperance Retevis RT36 is coming!More features here will be introduced!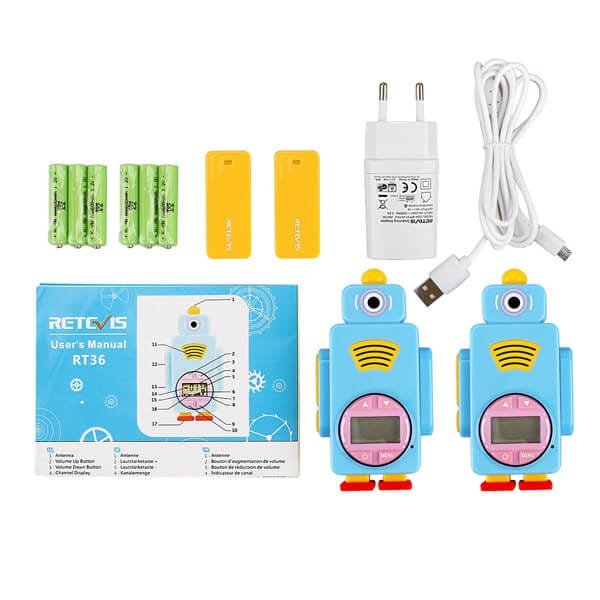 The Retevis RT36 is a robot shape,fit for kids to use,simple unique walkie talkie!Have it ,you can keep in touch with roaming children when they scamper off in outdoor or when shopping in supermarket!
So if you consider to buy a Walkie Talkie for your kid,which factors will be think about? Here i will introduce a cute kid's walkie talkie Retevis RT36:
Special Design:

Robot apperance!Different from the other kid's walkie talkie ,with this robot apperance, Children will pay more attention on this walkies talkies.and with human design:the robot's hand hide the USB port,make it safety to use!

Simply to use:

Not like the common kid walkie talkie,and there are just have 4buttons in front of it :Volume up and down,Menu and Power Button.The left side with 2buttons:PTT and Lamp button.The right size has a USB port for charge!Like the picture below:

Comforable Size:

The length is 110mm,the width is 56mm,and the thickness is 28mm.The kids can operate this walkie talkie RT36 easily and comforable!and the parents can operate by one hand!

Colors:

It has 4 colors: blue,pink,yellow and red. The Colorful kid walkie talkies can attact the children's attention here

Frequencies:

It has two frenquencies bands:EU PMR446 with 8 frequencies; US 462-467Mhz with 14 frequencies.
So if your kids is annoying you with requests for a smartphone,and you don't feel that they should have one,why not buy a walkie talkie for them? the Retevis RT36 will be your best choice for your kids!
Retevis RT36 will not only have fun to play with ,but also help parents stay connected with their kids.
Now Let's go on a camping trip With our lovely children,please don't forget to take the Retevis RT36.
Next time, i will talk about how to use the walkie talkie Retevis RT36.And if any questions and suggestion ,please feel free to write here.