PC28 FTDI Chip USB Programming Cable is the essential accessories of Radio.Like the data line of our Cell phone.
When it's connected with our PC and Radio, We can check and set the function as our own needs.
 How to use the USB Programming Cable.
1.Frist download the USB universal Driver and install.
The USB Cable can be compatibled radios:
Type

Mode

Retevis

H777,RT7,RT1,RT21,RT22,RT24,RT23,RT26 ,RT5, RT5R,RT5RV, RT81

for Kenwood KPG

KPG27D,KPG29D,KPG48D, KPG49, KPG55D, KPG56D, KPG62D, KPG66D, KPG69D, KPG70D,KPG74D,KPG75D, KPG77D, KPG82D, KPG87D

for Kenwood TH

TH-D7,TH-D7A, TH-D7AG, TH-D7E, TH-F6, TH-F6A, TH-F7, TH-F7E, TH-G71, TH-G71A,TH-G71E, TH-K2, TH-K2A, TH-K2E, TH-K2ET, TH-21, TH-21AT, TH-21BT,TH-22,TH-22A, TH-22AT, TH-22E, TH-25, TH-26, TH-27, TH-28, TH31AT, TH31BT, TH41AT,TH41BT, TH-42, TH-42A, TH-42AT, TH-42E, TH-45, TH-46, TH-47, TH-48,TH-55,TH-75, TH-77, TH-G71, TH-205, TH-215, TH-225, TH-235, TH-235A, TH-235E,TH-315, TH-415

for Kenwood TK

TK-208/308,TK-220/320,TK-240/340,TK-240D/340D,TK-248/348,TK-250/350/353,TK-260/360,TK-260G/360G,TK-270/370,TK-272G/372G/373G,TK-270G/370G,TK-278G/378G/388GPro-Talk,TK-430/431,TK-2100/3100Pro-Talk,TK-2102/3102
Pro-Power,TK-2107/3107
Pro-Talk,TK2207,TK3207,TK-2160/3160

for BAOFENG

UV5R,UV5RA,UV5RE,UV5REPlus,UVB6,UVB5,UV-8,UV-8D,UV5RB/UV5RC/UV5RD/GT-1/GT-3/GT5/480/490/320/V6/V7/V8/658/520/530/999/888/777/666S/777S/888S/388A/A5/F8+/A52

Almost all the brand 2 pin two way radio of China
3. Right click on "My computer" , Clicking the "Device Manager", Opening the port(COM & LPT), you can find the Prolific USB-to-Serical Comm Port(COM?)
4. Downing the Radio model software: The address: https://www.retevis.com/resources-center/. Picture:
5. Opening the software, Clicking the "Setup", Clicking the "communication port", Choosing the 3step which we saw the comm port (COM?) at          computer.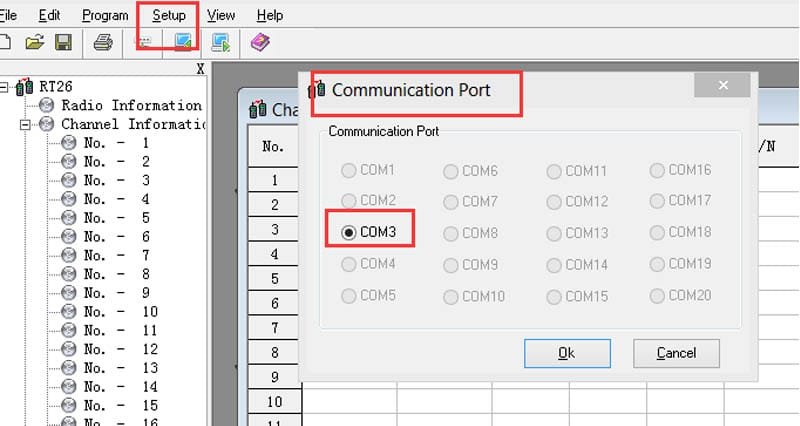 Ok, now do u clearly how to use the USB Programming Cable ? If not, welcome to leave the message.