RETEVIS always strive to offer better and better products. Listen , adopt and improve for you. Such as RT35, Here're improvements as below:
New RT35 upgraded its RF chip and speaker,so it has improved not only its communication quality hugely with a better crystal vlear voice,
but also a longer distance range with 5km at beach and 2km at neighbors.
New RT35 replaced the backlit color. so it has a much more evenly and clearer back-lit LED light than the old ones.
VOX level of New RT35 has been adjusted to a best appropriate one. So you won't hear any scream sound easily any more.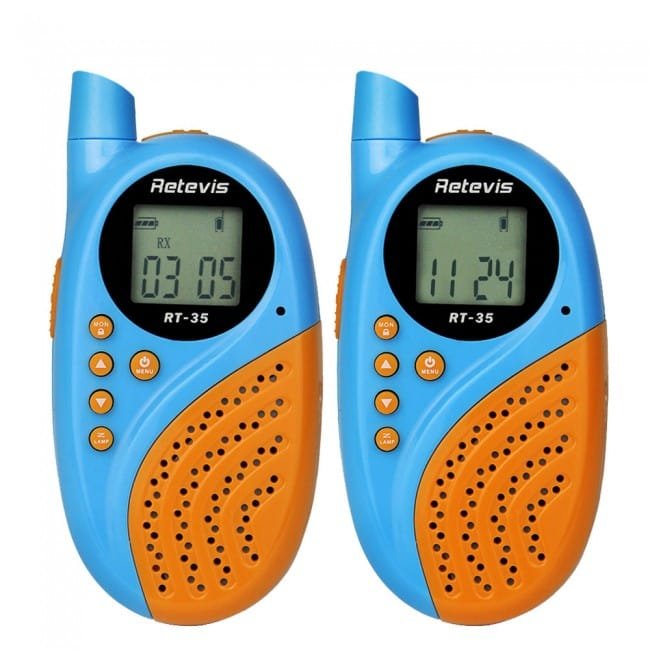 However, What makes RETEVIS RT35 different?
FRS/GMRS or PMR446 license free walkie talkies. No licence required!
Ideal Size/Weight of RT35 features is a most important feature
PC Material make it more stable and anti-broken than usual ABS ones. even if it falls accidentally, it's still protected well. Digital clock and Alarm clock function. When it turns off, alarm clock still works.
One USB cable with double connectors for USB Li-ion rechargeable packs. It's universal charging USB cable and convenient.
10 different call tones to select, so you can transmit different call tones to other radios in your group so you can alert them that you want to talk.
30-day return/exchange; 365-day warranty ; Life-time technical service
Anyway, It's a best puzzle family walkie talkies partner or neighborhood activities. On the one hand, Keeping in touch with kids who are playing in the neighborhood allows parents to know where their children are without limiting them to their own yard.  Such as Children playing in a neighborhood , cook outs, children playing, and block parties . On the other hand,Another advantage of RT35 radios in a neighborhood is for community watches.
So try RETEVIS RT35, give you a different puzzle toy radio!