How to choose UHF And VHF on RT29 walkie talkie?
We all know that walkie-talkies have a wide range of USES, special for business.
They are not very cheap, and it is a Work necessity, Some companies need to buy hundreds of walkie talkie for their stuff at one time.
So it's very important to order the right radio the first time, it will save more for your business.
Due to VHF and UHF is Suitable for different use environment, it's important to take their differences into consideration when making a purchase.
Many people know that have UHF and VHF, But Few people really understand their differences.
We suggest that you'd better know the difference between a UHF and a VHF radio, and then choose the most suitable walkie-talkie for yourself.
Firstly you need to know UHF radios and VHF radios can't communicate with one another, because they have different frequencies.
If you already have radios and are looking to add units to your set, be sure to select the same band so that they can work with one another.

UHF (Ultra High Frequency)
In most circumstances, a UHF walkie-talkie is going to be your best bet.
UHF radios operate on frequencies ranging from 400-480 MHZ.
Because the waves are shorter and can get around or penetrate areas of interference, like those found in buildings, thickly wooded or hilly areas,
and urban outdoor settings, UHF radios work best for most 2-way radio users.
UHF two-way radio with a good-sized antenna and enough power will reach further into a building and push through and around steel, concrete,
wood, and earth, allowing you to communicate with your entire team, even if you're on different floors. Such as Retevis RT29, RT50, RT81.
All of them have UHF and 10w power and good-sized antenna.
If your two-way radios are going to be used exclusively indoors or if they'll need to go indoors and outdoors, there are hands down your best choice.
A good, general-purpose UHF model would be the Retevis RT29 UHF radio.
It looks like a brick, due to the lack of digital displays and rugged exterior, This can tend to help out with durability since there are fewer parts.
Due to it is very durable and strong, we called it "werewolf".
And, as the term implies, it's pretty darn durable. If you need more power or more channels, just shop the UHF radio section for more options.

VHF (Very High Frequency)
The frequency range of VHF radios is 136-174 MHz.
The advantage of VHF radio is that it can cover more distance with less power due to VHF waves are longer and remain closer to the ground.
If there's a clear line-of-sight between the sender and the receiver with little obstruction, VHF walkie talkie will work best.
VHF radios are used exclusively in aviation and marine communications where signals are sent across open space of water or between the sky and the ground where there are no obstructions.
VHF band walkie-talkies are is a good choice for open fields, such as golf courses, landscaping or for outdoor security situations with few obstacles.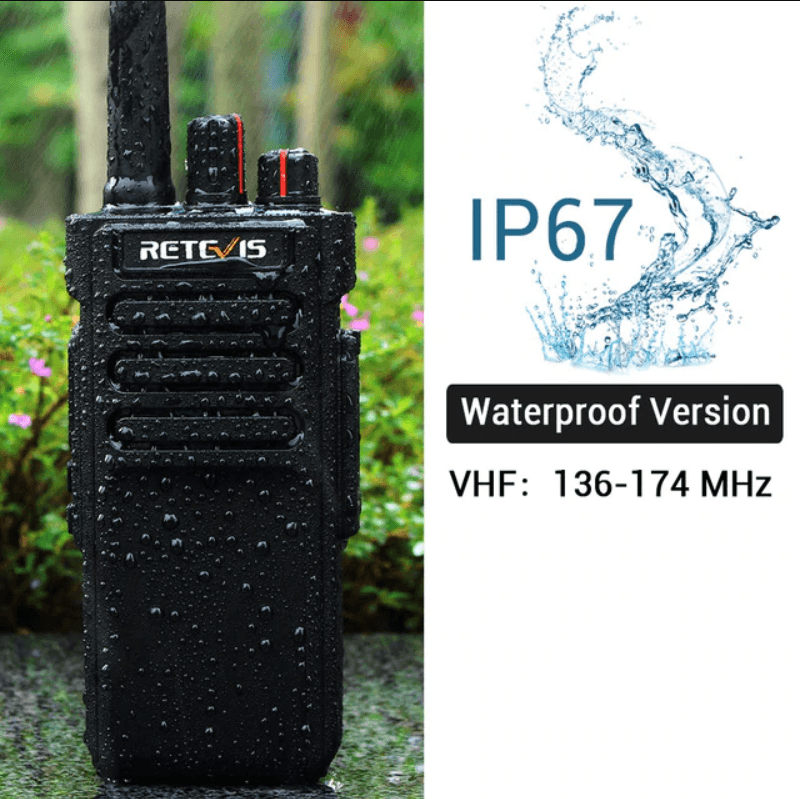 Retevis Analog VHF radio without a screen is only RT1 and RT29. A good, basic VHF walkie-talkie would be the RT29 VHF walkie talkie.
It is a good, basic, durable IP 67 waterproof two-way radio with 10-watts and 16 channels.
It will give plenty of power for outdoor use for more than a mile.
And, the 16 channels will support 16 groups of people talking separately.
It also has scrambler function, make sure 16 groups can have Private conversation.
IP67 waterproof and dustproof let RT29 have more More usage environment.
The Price Of RT29 is lower than RT1.
Rt29:$54.99; RT1:72.99.