Top3 Retevis toy walkie talkies from the below 8 models are:RT388,RT602 and RT628.And Model RT36 is the newest toy walkie talkie.

1,Color:5 colors:Pink,Blue,Black,Yellow and Sky blue
2,Upgraded version RT388plus (Pink Color):best PC shell cover, rechargeable batteries and charger.
3,With the Rohs,CE,FCC,WEE Certificates.
1,With the Li-on battery. Or if you can not buy the Li-on battery in your place,you can buy the  AAA battery.
2,The size:Small size fit for the children's hand.
3,Charger: it have the chargerbase and charger line+adapter. this will be convenience.
4,With the CE,FCC Certificates.
1,Color: 4 colors: Black,Red, silver,Camouflage.
2,Upgrade version: Camouflage color,named RT628plus.
3,Fit for the children and adult to use. A customer said:Retevis Walkie Talkies make me want to be a kid again, and play special agent guy!
4,With the Rohs,CE,FCC,WEE Certificates.

These Top3 best selling toy walkie talkies, with the

sufficient

inventory and stable production progress.
Retevis RT36:
1,RT36 is the newest model of all the toy walkie talkie.
2,Shape:Unique shape with the Robot apperance. The design patent belongs to Retevis Brand.
3,With the IC,FCC,CE,Rohs Certificates.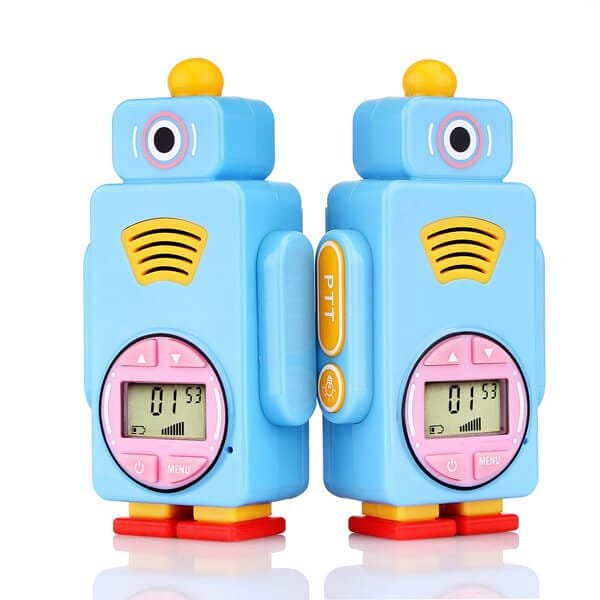 If any question,please leave a message or email us : partner@retevis.com