Some customers asked a questions: What are the Similarities and Differences of RT21V and RT47V? Here I will talk about these two models. First we need to know something about the MURS.
MURS radios can be used for business or consumers. It is a unique radio service, without license VHF band for business, personal or recreational use. There have five MURS frequencies, and wit the power up to 2 Watts.
So the Similarities: RT21V and RT47V
1, They both are the MURS handheld radio.
Retevis RT21V and RT47V are all the MURS handheld radio, they all don't need the license. That means you do not need to apply for a license, and also you do not need to pay money on it. They two models all have five channels, and these 5 channels are with the VHF frequencies. With the power up to 2 watts.
2, Functions almost same
They two models with the functions almost same. They all support:
QT/DQT private code, TOT, BCL, Squelch, Voice prompt, battery save, scan and monitor.
3, They all have the software
Retevis offers the different software for two models. You can program your MURS radios by the software. To change the channel's private code. Set the TOT/Squelch value and so on.
The Differences: RT21v and RT47v
1, Waterproof or not
Retevis RT47V is not only the MURS radio, but also the waterproof IP67 MURS radio. But RT21V is only the MURS radio. So if you are looking for the IP67 Waterproof MURS handheld radio, you can choose model RT47V.
2, Apperance
Check the picture: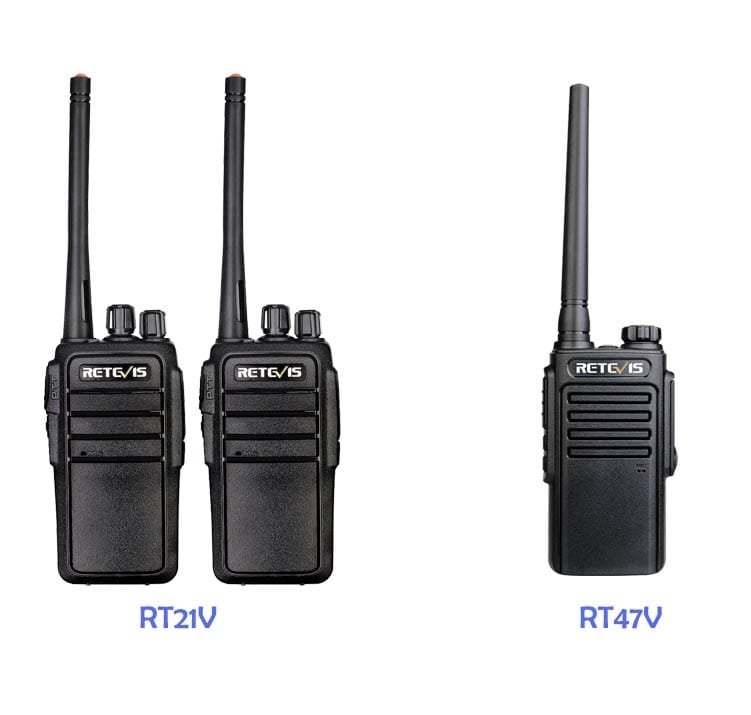 3, Package
RT21V comes with 2 pack radios in the standard package, but RT47V, the standard package comes with 1 MURS radio. So if you are looking for pair MURS radios, choose RT21V will be a good choice.
Above are the Similarities and Differences: RT21v and RT47v. If you have any questions about MURS and Retevis radios, please leave message or contact us by email: partner@retevis.com