Retevis Repeater RT97, the mobile Analog Repeater. Just because the small size, so it can be used in Office area, Outdoor activities like music Concert, wedding, Construction Projects and so on.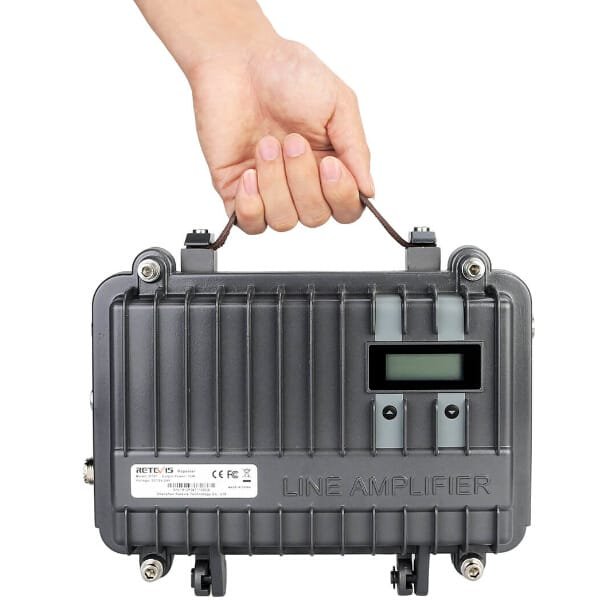 Features:
1, Customizable: The TX and RX frequencies can be customized between UHF (400-470MHZ) or VHF(136-174MHZ). Offset: 5mhz or 10mhz
2, Output power: 10W.
3, Small size: With the package size: 310×283×170mm. Very small and easy to carry, you can use it outdoor.
4, Car charger: Provide the car charger, you can use this repeater in your car.
5, Multi-charger way: Not only provide the car charger, but also provide the DC12V~24V power. Very convenient.
6, LCD display will help you know the TX and RX frequencies, CTCSS/DCS code.
Custom requirements:
1, We have the default frequency in stock, TX: 463.3125MHz and RX: 453.3125MHz. Offset 10mhz. 
2, Customized the UHF from 400-470mhz. offset 10mhz or 5mhz
3, Customized the VHF from 136-174mhz. Offset 10mhz or 5mhz

Note:
1,If you don't need to customize, you can choose number1.
2, If you need to customize, you can leave the TX and Rx frequencies and offset you want in your order.
3, If customized, please make sure your TX's frequency higher than Rx's frequency.
3, The Customized version takes 20-25 days to customize. So you need wait for a few days to receive.
Lewis from UK made a video on Retevis RT97, the field test of this portable repeater. Thanks very much to Him!
If any question, please feel free to contact us here or facebook: www.facebook.com/retevis