The Best Ski Walkie Talkies-Buying Guide
Are you looking for the best walkie talkies for skiing or snowboarding? Read on this Buying Guide for best ski two-way radios, hope this will help you.
First Could you please answer me a question? When you're packing your bags for family/team ski trip, which communication gear will you take?
Maybe some people will answer Cell-phone. Yes, cellphone has become the most important communcation tool. But when you go skiing to the mountains, you will not get the great reception in the hills away from camp. Because lots of ski resorts are located in remote areas. So lots of places with no phone signals.
Using two-way radios when skiing is a great idea.
1, A walkie talkie helps you stay in touch with your group or family. It will offer you an important function- Safety and communication. If you find yourself in a sudden issue, just Press the ptt to talk to the leader or camp.
2, Also walkie talkies are a simple and affordable communication gear. You do not need to download anything or set anything, you can just press the PTT to talk to others, just make sure the working channels between two radios are same.
3, When skiing, we wear the hats and helmets, so even if you're only one arm away from your partner, when you are speaking to him/her, he/she cannot hear each other.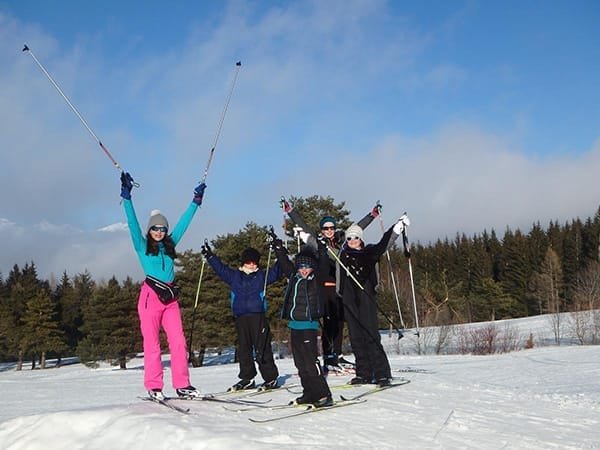 Some factors that we need to consider
1, Snow Proofing
Against the water will be the first factor we need to consider. Especially for those professional skiers, choose waterproof two-way radios will be very important. Retevis has lots of waterproof walkie talkies.
Retevis RT49P– New model, with the green color, P67 waterproof, built-in Flashlight, SOS with the red LED. 22 channels each with 121 privacy codes. NOAA keep updated with the weather conditions, License-free version.
Retevis RT47 -Two colors( all black/green). IP67 waterproof. Adapt to -10°C to 50°C working environment. License-free version.
2, Battery Life
Choose the high-capacity battery radios, also choose the USB charger, if your radio also accepts AA/AAA batteries will be better.
Retevis RT49p has the USB charger cable, accept the 3pcs AA batteries.
Retevis RT45 has the USB charger cable, and accept the 3pcs AA batteries.
3, Licensed or Non-licensed
Normally, there are two bands: General Mobile Radio Service(GMRS) and Family Radio Service(FRS) walkie talkies.
The FRS models don't require a license, like RetevisRT49P, RetevisRT45, RetevisRT47. They are suitable for your kids and your other family members, and at an affordable price. The range usually about 1-2 miles.
The GMRS models require a license to operate from FCC, Like RetevisRT76,RetevisRT76P,RetevisRB17A, RetevisRA26. They have more channels and more extended range. Usually will around to 5miles.
Any question about Retevis best Best Ski Walkie Talkies, please leave message below.