Retevis RM21 a Noise-Cancelling Floating Marine VHF Radio. Let me introduce its powerful functions below.
Long Distance
RM21 is a vhf walkie-talkie, basically there are obstacles on the endless sea, the VHF frequency has a longer wavelength than the uhf frequency, and the transmission distance is longer, but its diffraction ability is relatively poor, so it is generally selected in the open sea level The VHF frequency band helps the walkie-talkie to get a longer working distance. Our RM21 has a high power of 5W, which makes his working distance farther than ordinary marine walkie-talkies.
Noise Reduction Function
The RM21 is our first marine radio with noise reduction. Sometimes the wind is very strong on the sea surface. When communicating through the ordinary walkie-talkie, there will be a lot of noise, and you can't even hear what the other party is saying. You can only hear a lot of noise. This makes people navigating at sea very annoying , RM21 radio adopts advanced noise reduction technology. While transmitting information, it will filter out noise through the noise reduction chip, and only transmit clear sound information, so that even in noisy environments, RM21 can help you Realize clear and high-quality calls.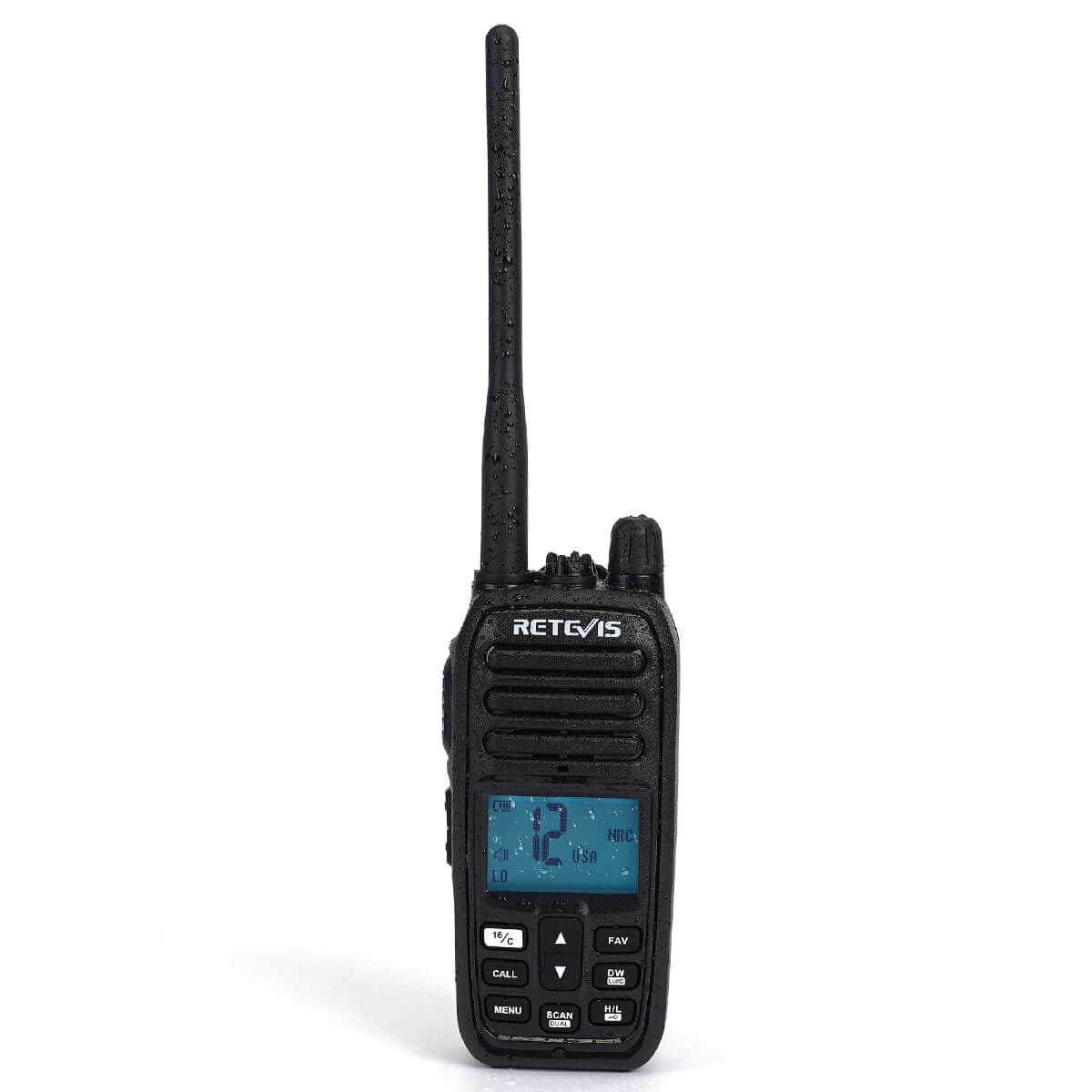 Waterproof Function
Water is the most exposed to sea voyages. so one of the functions that marine radio must have is waterproof.
RM21 adopts IP67 waterproof level, and is equipped with vibration drainage function.  Press and hold the button and CH+ button for 2 seconds at the same time to activate the vibration drainage function, which lasts for 10 seconds.
The water on the surface of the speaker is effectively drained through the vibration drainage function, prolonging its service life. Even if the walkie-talkie accidentally falls into the water, you don't have to worry.
RM21 reaches IP67 waterproof level, even if it falls into the water for a short time It does not affect the use after being fished out, and it also has the function of floating in the water. If the walkie-talkie is accidentally dropped into the water, it can float on the water surface and send out a flashing alarm to help you easily find the walkie-talkie that fell into the water.
Other Great Function of RM21 Marine Radio
RM21 also has a weather warning function, and the weather at sea is changeable. Through NOAA weather alerts, you can easily understand the latest weather information and emergencies, and take effective measures to deal with and reduce losses. It has a large-capacity battery of 1800 mAh and can stand by for 60 hours, bringing you a longer working time. Its dual watch function allows you to watch multiple channels at the same time, achieving higher communication efficiency for you.
After listening to my introduction, are you very excited? Hurry up and buy RM21 Radio. If you want to know more about marine radio, please read this blog. BASIC MARINE VHF RADIO TERMS YOU SHOULD KNOW