Kid walkie talkie are used as gifts for children.Christmas is coming, and if you are looking for a Christmas gift for your child, rechargeable kids walkie talkie is the best choice for you.
We always pay attention to the needs of our customers ,do our best to provide the best gifts or toys for our kids.
The kids walkie talkie is easy to operate ,it is a bridge between parents and children, children and partners.
And it is very popular among children.
There are many kinds of walkie-talkies on the market, various colors make every child can have their own color.
They can also choose from style. Both rechargeable and non-rechargeable.Such as Retevis RT388,RT36 include rechargeable batteries.
In short,If you kids use this frequently, upgrading to a model that includes rechargeable batteries is a good idea,will pay for themselves in the long run!
The advantages of a rechargeable kids walkie talkie
Undoubtedly, rechargeable kids walkie talkie on the market are relatively popular, because the rechargeable battery is not only saves money, but also can provided more convenient for parents.
You don't have to worry about suddenly losing power during use, and you don't have to carry extra batteries all the time, saving resources and extending happy usage time.
It is easy to connect the charger connector to the charging,
fully charged within 1-2 hours,you can normal use them more than 4 hours.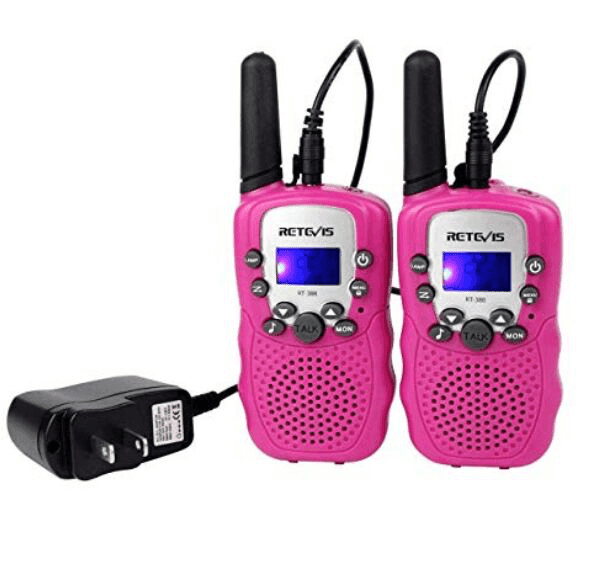 A simple talk button is highly visible , easy to find by touch. Its small size makes it convenient to carry around, even for smaller hands.
It intended for ages 4 and up.You can charge the radio with 220V or 110V.
kids walkie talkies also have VOX function,a PTT button lets you communicate when you are busy ,but want to speak.
In short,it's the best choice for children to choose gifts.