How to get the Free radio? Just post or share, when reaching to the right number, you will get the FREE radio.
Free radio introduction
Retevis RT43 with 2 time-slots DMR UHF two-way radio
1, It has 32 channels, with the digital mode and analog mode, the best choice to update your radios.
2, It has 2 time-slots, make it easy to help you extend your working range with the repeater.
3, Special shape design, easy to find the PTT to talk.
4,  With the Classic black, can be applied to any work.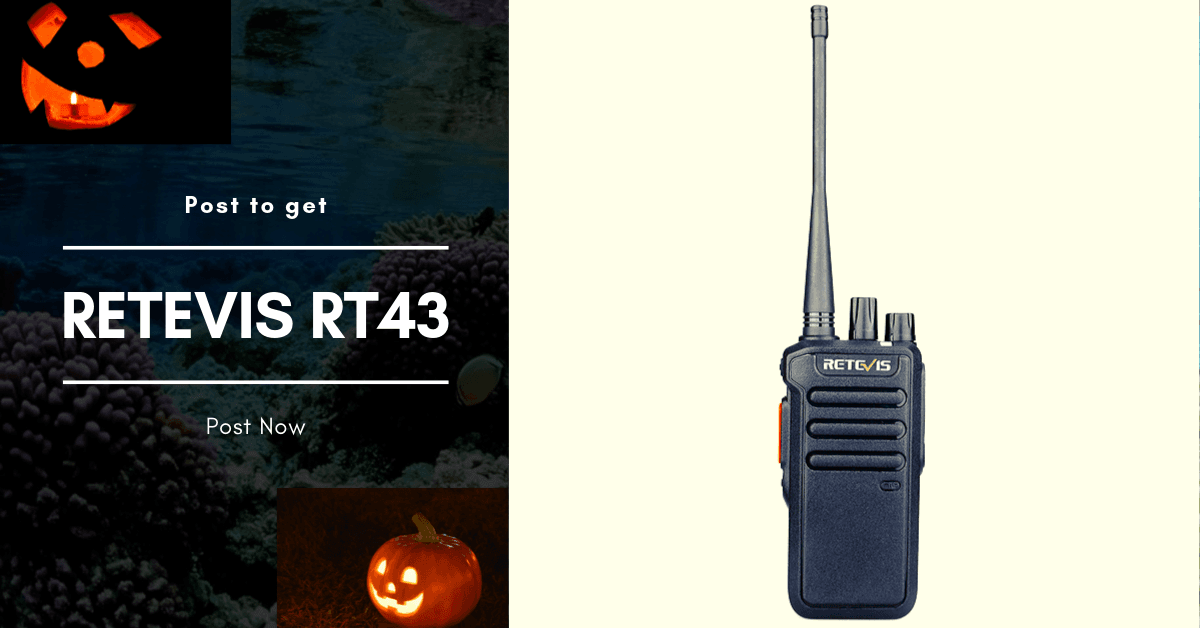 How to get the Free RT43?
From our website, the selling price is USD55. So you only need to post or share 55 times.
One customer can only win 1 radio.
Where and what to post or share?
Post: you could share the specified content on social media (Facebook, Twitter, Instagram etc.), YouTube, blogs, deal websites, or other online spaces.
Share: If you don't have many social media, you can ask your friend to share the information with their social media or websites.
Note: Each account only can count 1 time.
When you post and share, please send us the link or screenshots to our email: partner@retevis.com. The most detailed, the faster we check.
For example, I have a facebook account, I post the information on my facebook, no matter how many times I post, only count 1 time.
 The

specified

content

:
I like this Retevis RT43 DMR two-way radio: http://bit.ly/Post-Share-Free-Radio
How to do if I can't reach to 55 times?
Don't worry, if you can't post and share 55 times, you can get this radio by paying the rest of the price.
Note: 1 post or share=USD1.
For example, I totally post and share only 20times, only pay for rest price USD55-20=USD35  to get the FREE radio.
Post and share will help you to save money to get this radio.
Remember: Post more, save more.
Post and Share for Free radio Program details:
1, How to apply? Only need to copy the specified content to post and share with your friends( find friends to help you post and share), and send the link or any information that can prove you have posted and shared successful.
2, Limited time: Will end on 31th, Oct.
3, Please share and post according to the regulations. Please be honest, otherwise, we will cancel the FREE opportunity
4, Retevis reserves the right of final explanation.
If any question, please feel free to leave message below or contact us by email: partner@retevis.com