For a privacy two-way radio communication, only setting frequency and CTCSS is not enough, because many devices, such as Retevis Frequency decoder Counter R-511, can detect the frequency and CTCSS, when others are transmitting within communication range. But radio scrambler function helps here! We made a introduction for scramble function in previous blog before, this time, let's discuss steps to set RT1 scramble function:
Steps to set RT1 scramble function in software
Step 1: Please download and install RT1 USB driver (USB Universal Driver) and RT 24 software from RETEVIS official website https://www.retevis.com/resources-center/
Step 2: You need a programming cable C9018A
Step 3: Connect your RT1 with you PC, using programming cable
Step 4: Turn on the radio RT1.
Step 5: Now we come to R1 software interface
Step 6: Choose" scramble" in the voice function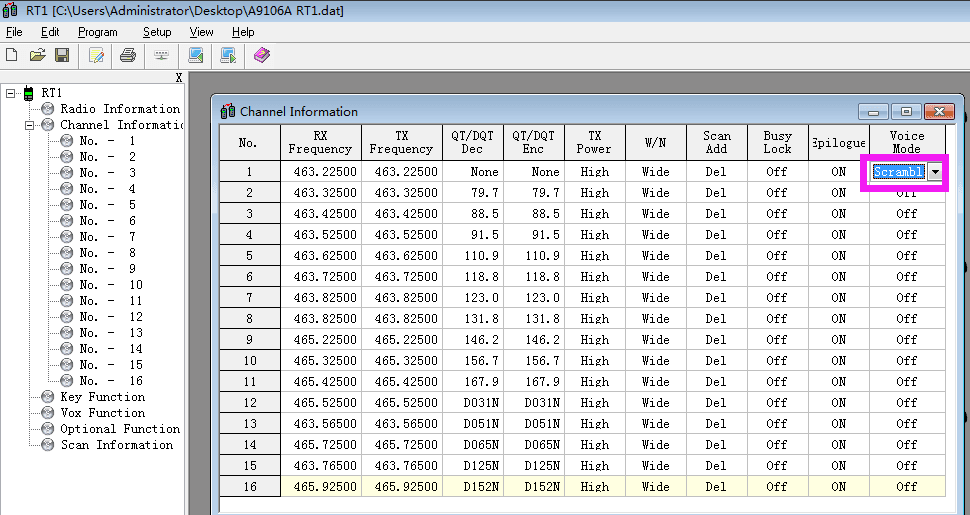 Step 7: Click" Write to Radio", to save the settings
Steps 8: in other radio which you want to communicate, set same frequency and CTCSS/DCS and Choose" scrambler" in the voice function.
Then other radio without activate this scrambler function, can not hear what your both two RT1 talking about.
What we should take note is that, only digital radio can realize real "encryption/privacy". As digital radio normally have "basic encryption" and "enhanced encryption", which is made up of different password, which is very difficult for others to get.
Analog radio scramble function can realize when others did not active scrambler function or are with different radio brand. If they are with same radio model and activated scrambler function also. Then still they can hear. So realization of scrambler function is conditional.