How to set Retevis RT2 Scan function? Sometimes, you want to know who are talking on the frequency or channel, which you saved on your walkie talkie, Or you want to talk into an unknown channel you are interested in, then you can set the scan function to realize it.
Some customers bought our Retevis RT2, they may think scan function for digital radio RT2 to be difficult to set, below please find some steps to learn how to set RT2 scan function correctly:
Before setting RT2 scan function, you need:
1.Download RT2 USB driver and Programming software, from Retevis official website:https://www.retevis.com/index.php/programming_software
2.Connect RT2 to your computer(not support Mac system), using RT2 programming cable
3.Turn on the radio, open RT2 programming software
4.Choose the correct communication port
5.Click "Read" in "Program"Option
Let's start setting RT2 scan function:
1.You can write the "frequency"(within RT2 frequency range) you want to scan, you can also choose the available frequency in the software. Just click "Add" at "Scan" Option, at least two channels need set to Scan"ADD".
You want to scan(receiving ) other signals, so it's better set RX tone NONE.
Then if you want to scan digital radio, click to choose Ch type"Digit", if you want to scan analog radio, click to choose Ch type"Analog".
2. Design the "side key" to be "scan function"key.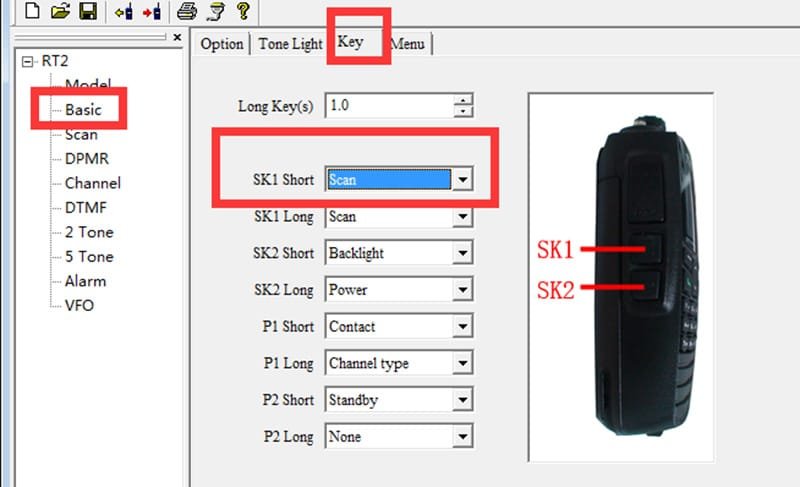 3.Choose the scan mode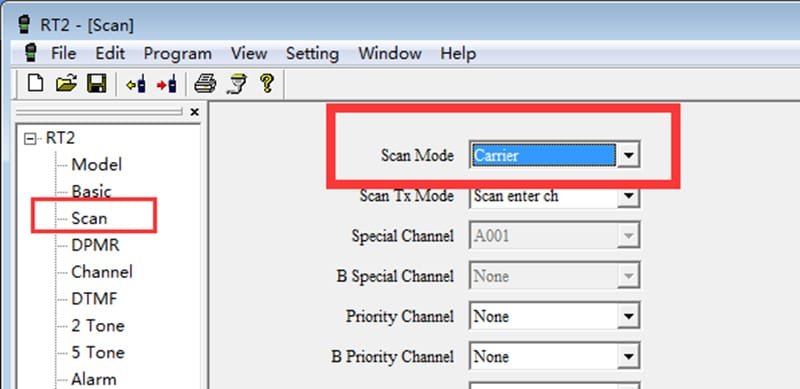 Times: Walkie talkie will keep scanning at a fixed time, no matter there's signal or not
Carrier:Walke talkie will stop when you scanned a signal, you can talk into this signal, when this signal is missing(nobody is transmitting), it will automatically scan the next signal
Search:Walkie talkie will stop on a signal it scanned,but it will stop at this signal all the time, unless you change the Scan mode.
So the most common Scan mode we use is "Carrier".
After you set all above correctly, then click" write to radio", to save all these settings.
4.Short press SK1, then scan function started, the indicator light flashed green,when there's signal arises, the indicator light keep green, you can hear somebody talking, you can talk into their conversation, Or just listen what they are talking about.
In addtion, you can switching between channel model and frequency mode when scanning, in Channel model, it will only scan the frequency in the channel you ADD in Scan Option. While in frequency mode, you can scan the frequency you added "scan", you can also scan all the frequency that is automatically added based on the step frequency.
Wanner know how to set scan functions for other Retevis radios? Please feel free to contact kam@retevis.com for a solution,thanks!