RT97 Economical analog Repeater Q&A
Q:How to judge if RT97 repeater is workable with my radio?
A:RT97 is compatible with any analog radios, or digital radio in analog mode, all compatible with RT97.
Q: If RT97 economical analog repeater can use both UHF frequency and VHF frequency?
A: No, VHF 136-174Mhz, UHF 400-480Mhz, 2 versions selectable.
Q: How many channels can use in RT97 repeater?
A: RT97 default has 16 channels. Please check sheet as below: UHF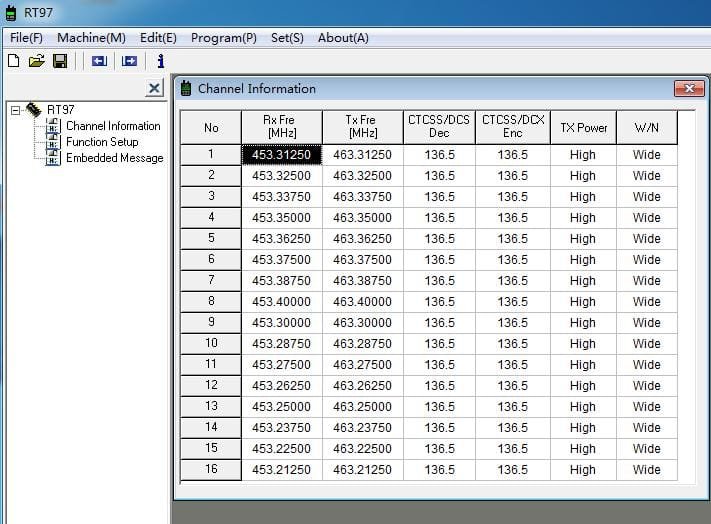 VHF
Q:If RT97 repeater including an antenna inside the parcel?
A: No, RT97 economical analog not including original antenna inside parcel, but you can choose J6505D, or any antenna that the connector is compatible is ok.
Q: What's include in original package?
A:Package Includes:
1 x Repeater
1 x Charger
1 x Power Supply
1 x Car Charger Cable
1 x Programming Cable
1 x User's Manual
Q:RT97 power is 10W, if it can adjust to lower power to 5W?
A:RT97 has only one power level 10W.
Q: If RT97 repeater can customize offset 4.6Mhz?
A: Yes, this offset we can customize, but based on testing, offset 5Mhz or 10Mhz, has best communication effect. This offset will not have good effect on communication range increasing.
Q:Is it possible to see the user's manual to understand if the repeater can work for me ?
A:We have make many blogs and videos for RT97, any of your questions, you can find answers in these blogs. Blog.retevis.com source RT97.
Q:Does this RT97 repeater have programming software or direct keypad input that will allow the Tx and Rx frequencies to be set independantly ?
A:RT97 have programming software, You can download it from Retevis official website freely.here is the link: https://www.retevis.com/resources-center