Update: RT95 VOX can be programmed by Chirp software. We have many models of walkie-talkies that can be programmed using software, for example, Retevis H777, RT1, RT21, RT22, etc. More models can look at the chart.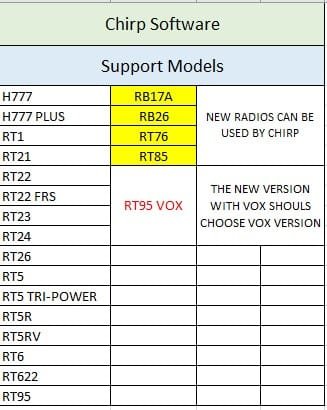 And maybe you have seen, the yellow area covers RB17A, RB26, RT76, AND RT85, which are the new models that can be programmed by Chirp.
What's more, the red character RT95 VOX is the new version that can also use Chirp to program. As a newly supported model, there are already advanced customers using Chirp software and successfully programmed.
If you already have one of these walkie-talkies, and if you'd like to try the new software, why not download the Chirp to have a try?
The link is: https://chirp.danplanet.com/projects/chirp/wiki/Download
Also, we always post the news, activities, updates, and other information on our social media page, if you'd like to get more new information from us, please follow our channels. If you have any ideas or suggestions, please leave them in the comment. We'd like to hear from you.
Other information is:
How to program your RT95 by Chirp?