All speakers get dirty after long hours of work. Especially in metal processing plants, manufacturing plants, and other places covered with metal materials. But we know, the aperture of the speaker is very small, while preventing big granule damage to the speaker, also intensified the difficulty of cleanness. One of our customers reported to us that his walkie-talkie speakers were covered in metal chips, which seriously affected the sound quality and radio life, so he asked if there was a radio that could solve this problem. If you have this problem, the RT54 is definitely the best choice.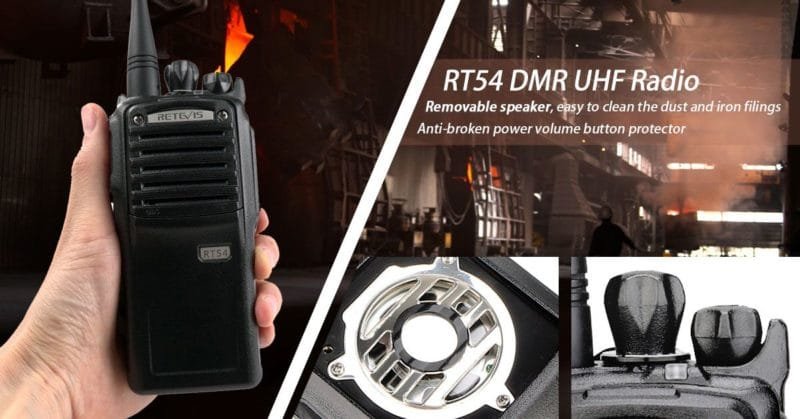 The first look and the important info can be found in the photo. So, let's start to learn more about the RT54.
It is a DMR radio, and you can receive and transmit both digital calls and analog calls.
It works in the UHF frequency band with high power, so the communication range is further than license-free radios.
It is a super durable radio because of the Knob to protect and the drop test.
Removeable speaker cover. If your speaker is covered in dust and debris, you can easily remove the lid and clean the speaker with a soft brush.
Also, you can use the private call, group call, and all call to talk to the manager and different groups.
If you have to use the repeater, the RT54 can also connect to the repeater.
With no display and keyboard to reduce errors, enhance its robustness, and improve efficiency.
As we all know, price is directly proportional to the quality, and RT54 is definitely worth it. If it helps you solve a problem, then it's worth it. However, if you want to have a competitive price, you can also contact us for a price list.