Dear customer previously purchased RT3 before April ,2016,
Maybe U bought our RT3 , can not programming manually , so sorry to make troubel for u .
but in fact, u can make it.
1. U just need a programming cable , https://www.retevis.com/oem-usb-programming-cable-for-tyt-dmr-radio-md-380
2. Download our software,https://www.retevis.com/programming_software
Kind remind: our software has updated, u needn't download the USB driver.more info. More info. Pls read  https://www.twowayradiocommunity.com/new-enhancements-rt3rt8-software/
3. u can click √ ( pls notice the follow screenshot ,red arrow )
4. Save the option, and then u can programming manually.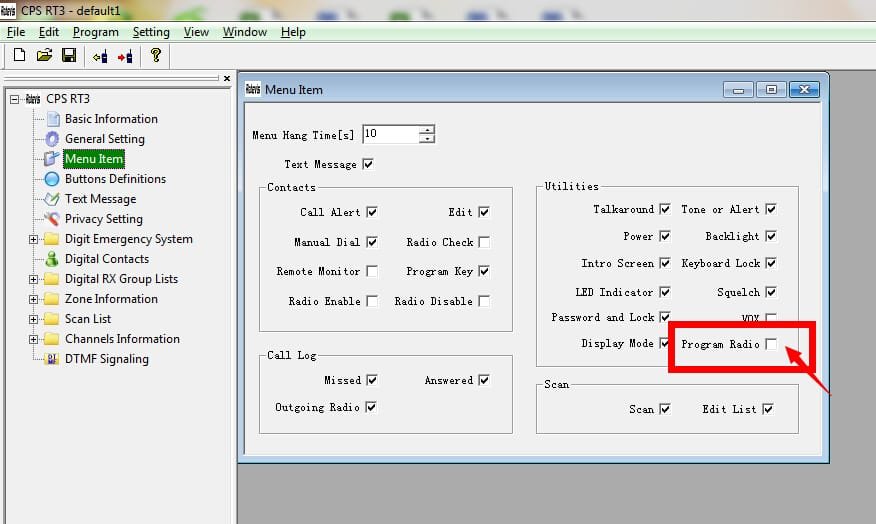 Why we didn't click √ to RT3 "program radio" before ?
For security reasons, to protect the privacy of customer frequency.But many customer said they need to the program manually funtion , and RT3 package not included programming cable , so bad for program manually . So we open the function now. As seller, we advice u had better buy a programming cable ,because u can open more functions by programming .
The above notice just for customers previously purchased before April ,2016, Now,pls don't worry, our factory has improved this problem, If u want to program manually, u don't need to buy our programming cable .because we have click √ for u in advance.
Retevis assure you of our best services at all times.
Retevis Family.