Why RT29 is a real waterproof radio because it meets with IP67 waterproof standard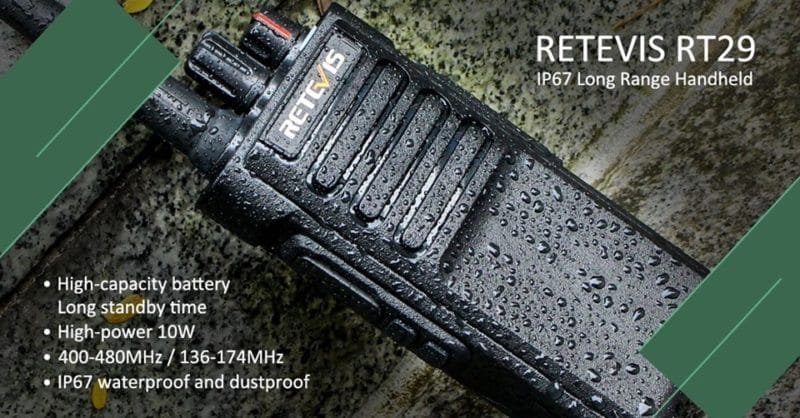 Firstly we learn what do the numbers in an IP Rating mean?
The numbers that follow IP each have a specific meaning. The first indicates the degree of protection (of people) from moving parts, as well as the protection of enclosed equipment from foreign bodies. The second defines the protection level that the enclosure enjoys from various forms of moisture (drips, sprays, submersion etc)
First Digit (intrusion protection)
6.Totally dust-tight. Full protection against dust and other particulates, including a vacuum seal, tested against continuous airflow.
Second Digit (moisture protection)
7. Protection against full immersion for up to 30 minutes at depths between 15 cm and 1 meter(limited ingress permitted with no harmful effects).
There's a tested video to introduce RT29 is a real waterproof radio
Our engineer tested in 1.2M water, RT29 can transmit signal with red indicator to talk with another one, It also can receive a signal with green indicator, attached a video for you reference
When the water inter into the speaker how you should do
Some customers meet this situation that the RT29 radio drop in water, such as swimming pool. The RT29 radio seems waterlogged, the volume is muffled and it doesn't seem to be functioning properly. If you meet this situation, please don't worry! The waterproof radio usually protects on the battery and circuit board part. The inner speaker needs to make sound, so not waterproofing.
In case inner speaker soaking in water, please dry the water or blow by hairdryer immediately. Finally, dry in the air for a while. This process will not affect the sound quality of the call.
RT29 is a real waterproof radio and it also is 10W high output power for indoor and outdoor kinds of the application environment. Mostly RT29 is the most economical price on all of Retevis 10W radios. If you have anything questions about RT29, please feel free to contact me by email, vip@retevis.com