Retevis Safety Helmet Built-In Walkie-Talkie RA16/RA616 is relesed, it is the License-free band radio. Let's check what it looks like:
It comes with the orange color, almost same as the normal safety helmet. But the back of this RA16/RA616, it has a radio. With the little screen for you to set your radio. Fixed and short antenna because it is the license-free band.With 5 buttons to help you set your radio's settings.
Now let's check the detail buttons by below picture: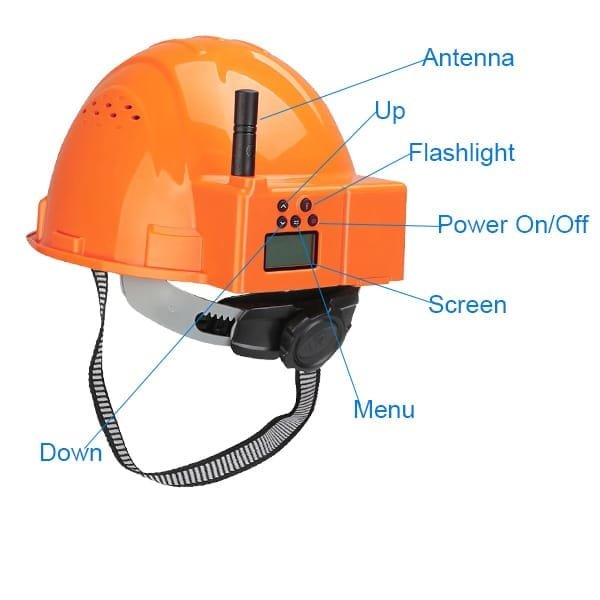 What's the features of the Helmet Radio?
1, Unique Design
This Helmet radio is designed for those who not only need to wear the safety helmet, but also need the walkie-talkies to communication.
2, Adjustable
This helmet can be adjusted by yourself, according to your head size, you can adjust it tighter or looser.
3, Radio built-in.
It is not the safety helmet, but also the walkie-talkie.
4, Lots of functions can be operated by its buttons.
Radio has the functions like FM radio, scan, power choose, backlight, save power, and so on. These functions can be operated by its buttons.
5, Flashlight
Usually, as the helmet, you need to use the head lamp. But our Helmet radios RA16/RA616 has the Flashlight,  no need to use another one.
6, Touch to Transmit
There is no PTT button to tranmit, you can touch your forehead to transmit.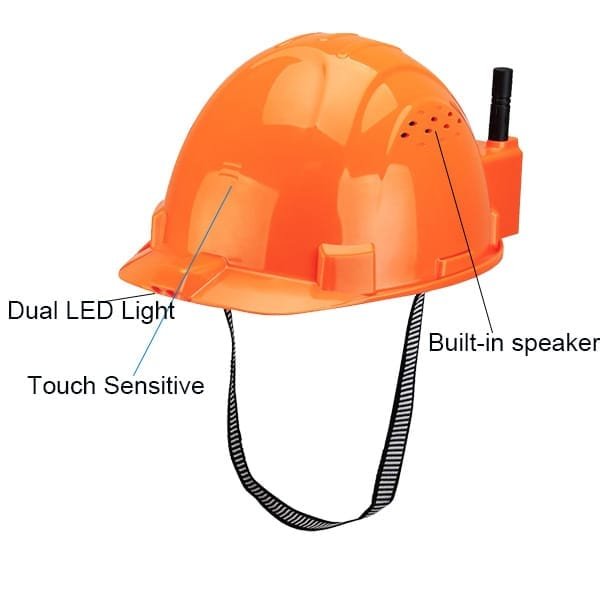 7, Emergency Alarm
This Helmet radio has the Emergency alarm, when you meet problem or other dangerours, make sure radio in standby state, long press the Up button, the alarm sounds. Other radios with the same channel will alarm too.
8, Quick make Team
When radio user initiates a team on the radio, entering the same password, can quickly multiple radio devices in the same channel。
Where this helmet Radio can be applied?
For those who need to wear the safety helmet, and also need the radio to make communition. Like the construction site, factory, production room and others.
Any question about this helmet radio RA16/RA616, please leave message below.