Retevis RT97 Repeater Q & A
The Retevis RT97 repeater is popular with many consumers, but some new customers may not know much about the RT97 when they plan to buy it. Regarding the points that customers often ask, I have made the following summary:
1/ versions
RT97 is available in 4 versions: UHF , VHF , GMRS and customized frequency
A: UHF
B:VHF
C:GMRS
D: Customized frequency
You need tell us a central frequency  after you place an order :
For example:
1> RT97 VHF central frequency is 【VHF/TX:162.6125/RX:152.6125】,  it is the best to change the frequency  randomly within ±200KHz of the center frequency ;
2>The center frequency is ±1MHz (that is, 1000KHz), which is also possible in theory, but the effect is not guaranteed;
3>The center frequency ±200KHz is set according to the step of 12.5KHz, 32 channels can be set, generally enough
2/Features:
1. Output power:  10W.
2.Small size:  With the package size: 310×283×170mm. Very small and easy to carry, you can use it outdoor.
3.Car charger:  Provide the car charger, you can use this repeater in your car.
4. Multi-charger way:  Not only provide the car charger, but also provide the DC12V~24V power. Very convenient.
5.LCD display will help you know the TX and RX frequencies, CTCSS/DCS code.
3/ What in the box?
If you buy only one RT97 repeater, the package you receive will contain the following products: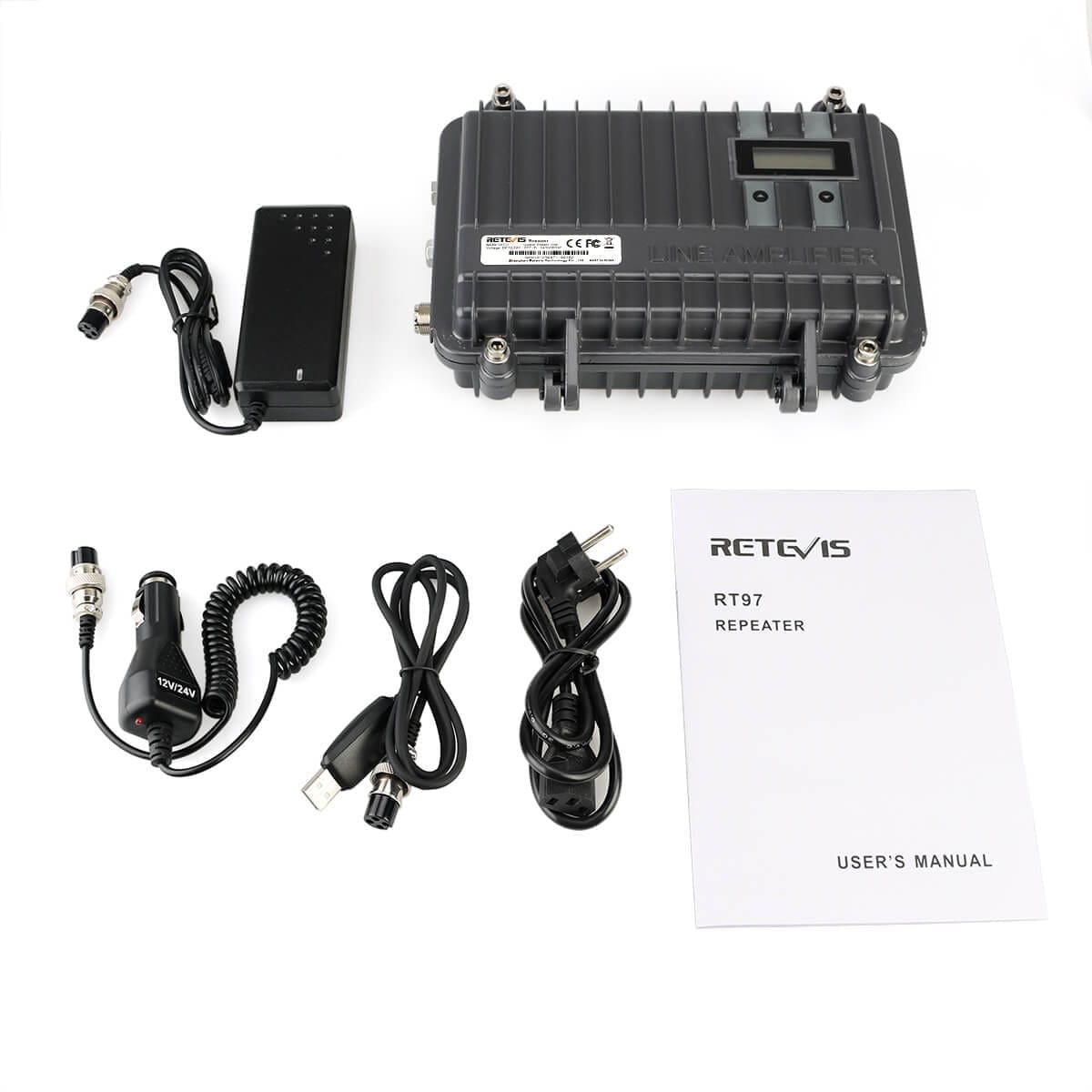 4/How to choose
If you want to connect your handheld radio to RT97  repeater
A: Before purchasing, please confirm the frequency range of your walkie-talkie? Is it UHF or VHF?
B: Then select the corresponding version of RT97 according to the frequency range of the walkie-talkie
5/combination
RT97 repeater usually to be  used together with FRP Antenna and Pure Cupper Cable. There are several matching solutions. Take RT97 GMRS as an example:
A: A9150CX1-C9196AX1-C9123AX1
B: A9150CX1-C9123AX1-C9073AX1
C: A9150CX1-C9123AX1-C9082AX1
D: A9150C-A9180AX2-C9034AX2
E: N6024A
6/ Application scenarios
Retevis RT97 with the mini size, and multi-charger, help you to extend your handheld radio, and easy to install and easy to use, can be widely used for different applications, such an fleets, construction site, industrial park, hotel/office buildling, farm and etc.
If you are interested in RT97,  please feel free to contact us, our email is partner@retevis.com