Retevis RT95 Dual Band FM Mobile Transceiver Review by m6ceb. You can read the original here: https://m6ceb.com/reviews/retevis-rt95-dual-band-fm-mobile-transceiver-review/
1, Where to Buy?
I got mine directly from Retevis in China and took around 3 weeks to arrive. I prefer to buy directly from them as their customer service and after sales support is amazing,they are very active on Facebook groups too, You can order here: https://www.retevis.com/rt95-amateur-mobile-radio
I was struck by the build quality when I opened the box. This radio is a full metal Die-cast body and feels extremely well put together, it also has a really nice weight to it.
2, Appearances
Size: 124mm (W) x 163mm(D) x 39mm (H).  With 6 Buttons P1~P6 and a Function button,these can easily be changed to different funcitons. Like change from Memory mode to VFO mode. press the function key and the same key changes the Power level.
Holding the button for a few seconds will take you into the main menu. After owning this radio for a couple of days you will be 100% comfortable with all its functions.
On the back of the radio we have the SO239 socketand a 3.5mm audio out port to connect your external speaker if you have one.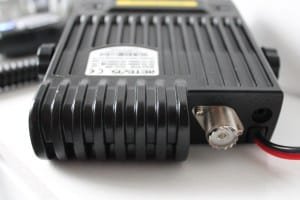 The microphone is also a real positive with this radio, really nicely built and put together and well thought out, you have 4 user programmable buttonsfor easy access to most used functions of the radio, changing power and switching from memory and VFO mode.
The display is absolutely gorgeous! Full colour and perfectly readable even with its small size. I have no issues reading the information at a glance and i particularly love the s meter at the top, really beautiful! The display can also be flipped 180 degrees. Fantastic feature!
The speaker on this radio is also fantastic!One of the best I've heard and you will have no problems hearing the other station in your car or truck.
3, Power
This radio has 3 power levels, these are..
Low > 5W
Med > 15W
High > 25W
Personally I would have liked to see the medium power at 10W, because foundation license in the UK can only use 10w max.
I tested to talk on both the 2 meters and the 70 cms band, they have all given me fantastic reports on my audio and signal, I find the receiver to be very sensitive and found it just as good as my Yaesu FTM100 for example.
Other favourite features
Dual watch feature, screen rotating function and the display. colour choice, Microphone stunning design
Conclusion.
1, Tested over the air simplex and using repeaters, got mant positive reports on sinal strength and audio quality,
2, Well made, beautiful to look and at a very reasonable price.