Retevis RT94 Analog DMR Repeater, it is the Analog and Digital DMR  mobile repeater. Can be customized the Repeater's frequency.
This Retevis RT94 repeater is the wireless intercom smart system, the new generation of wide-narrow communication repeater. This repeater it not only support the DMR, analog mode, but also support the 3G/4G LTE mode, also support the private network technologies.
Let's check the Retevis RT94 repeater:
It has 3 antennas port: 4G antenna connector, Wifi Antenna connector and GPS Antenna connector.
The size of this Retevis RT94 mobile repeater: 300mm*200mm*92mm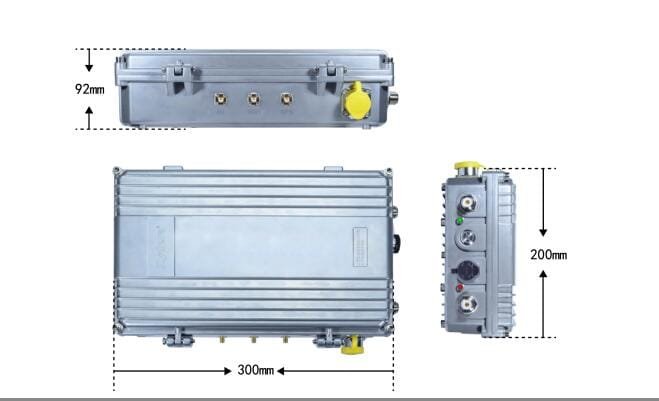 The features of Retevis RT94 mobile repeater
Can be customized between UHF or VHF.
Support the Wifi
IP67 waterproof and Dustproof
GPS
Offer the Cloud platform
Smart interworking between Private Network Digital and PoC terminals
Remote Control
Private Call / Group Call / All Call
Wide Coverage & StrongPenetration
Business Communication Solution for Retevis RT94
Long distance transmission across regions
If your business acrosses the regions, Retevis RT94 Analog DMR LTE mobile Repeater will help you  easy to make comunications.  Check the below picture: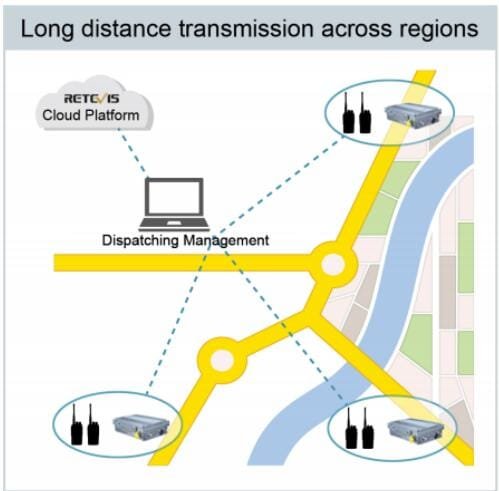 As the picture, if your business needs to across 3 regions, then you can setup the Retevis RT94 repeater and handheld radios in your business regions.
Retevis RT94 support the Cloud control, you can use the Retevis Cloud platform to control your repeater, the dispatch management will show the GPS location.
Wide and high building Communication Solution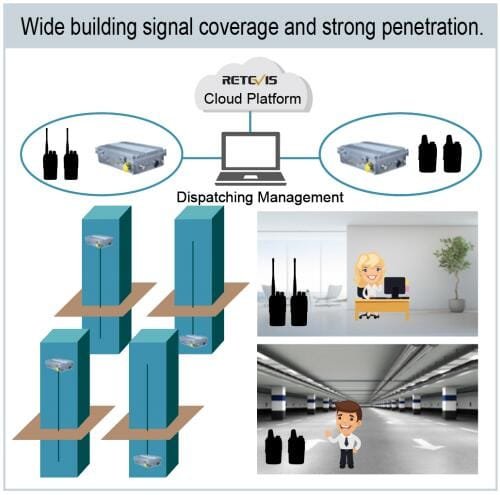 Different floors and different buildings to set the RT94 repeater, that will help to make easy communication.
The package of Retevis RT94:
1 x RT94 Smart Repeater
1 x 4G Antenna
1 x WiFi Antenna
1 x GPS Antenna
1 x Power Base
2 x PC cable
If any question about this Retevis RT94 analog and digital DMR mobile repeater, please leave messages  below or contact us by email: partner@retevis.com