Retevis RT52 coupon code is coming!!!
Retevis RT52, as the dual band dual display DMR radio, and because it with the special display with dark blue, has become a favourite DMR radio.
Retevis with the facebook page: www.facebook.com/retevis posted a message: Guess the model to win the big discount code.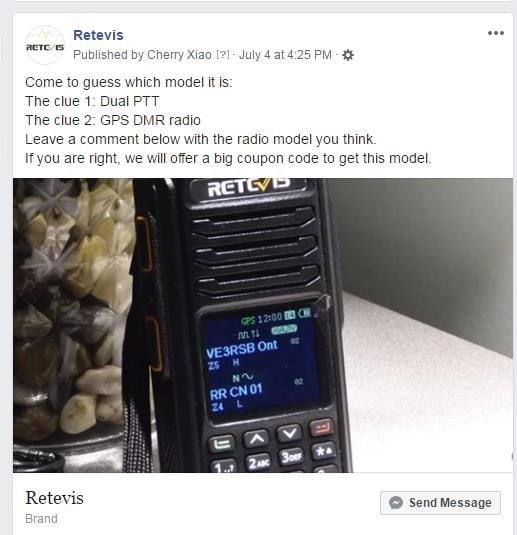 Thanks to all our Retevis fans to leave comments.
The winners from facebook:
Kurt Brockmann   Shane Callaghan  Mike Spencer   Mazinger Leonciño
Ken Pyle   Никитин Александр     Kevin Halton  Gordon Wilson  
Allan Pitty  Roy Losbañes   Narcis Nedelcu  Todd McGovern
Krzysztof Lewandowski   John Franklin    Gary English  Dale Hallam  
Mark Lindsey   Jon Moran    Bob Bonar  Frankie Deschacht
John Remington    Shaun Smith   Bob Temes    Danny Heppener
Steven Brodie   John Stilwell    Chuck Gysi   Bill Bogden
Felix Rios   Dominic Flamme  Todd Bloomingdale   James Joseph
Pat Milk   Max Girini   Alessandro M. Di Santo  Steffen Anger
Bernardy Ortiz   Gordy Nesbitt    Juan.Enrique San Martín   Esteban Alonso
Umberto Pisciotta   Dick Rademaker  Hans-Jürgen Marx   Michael Melancon
Jimmy Merry Jr   Todor Tihomirov  Evan Gelion   David J. Lowenstein
Matthew LeBlanc
The winners from instagram:
09lriches
jimis_dimitris
Please contact us by email: partner@retevis.com
We will offer the discount to purchase the model RT52 for you, at the same time, we have prepared some gifts for those fans who order.
Please note: Limited gifts, first come, first served.
How to Get and Use the Retevis RT52 coupon code?
1, Email us to get the coupon code: partner@Retevis.com
2, Search the model RT52 on www.retevis.com. Or click the link: https://www.retevis.com/rt52-dual-band-dual-ptt-gps-dmr-radio
3, Check your shopping card, find the Discount Codes, fill the code we offered you.
4, Go to the checkout page to pay for your order.
5, Valid until 31th,July.
Retevis reserves the right of final explanation