Retevis RT43 business DMR radio, the single band UHF 400.000-480.000MHz. 2 time-slot that can connect the repeater( relay). It has lots of functions and features, here we will introduce this DMR Retevis RT43 for commercial in details.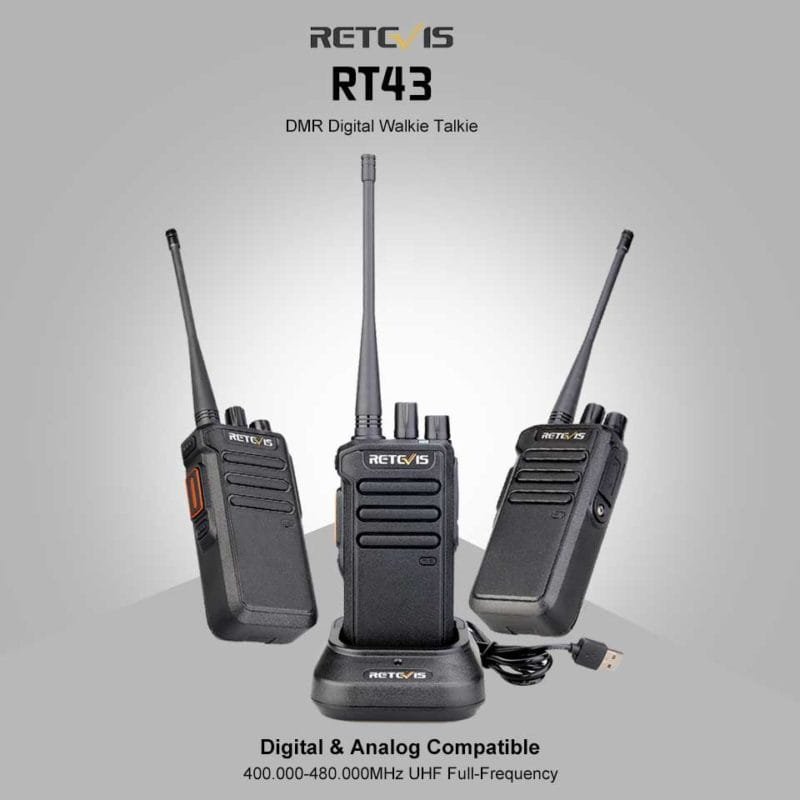 The working mode
Retevis RT43 has the Analog& Digital mode, the digital mode will make your radio's signal better, it will capture weak signals and have a good sound quality.
2 Zones for 32 channels
Retevis RT43 DMR radio has 2 zones, each zone can save 16 channels, total 32 channnels. In the software, you can edit the channel information: Tx frequency, Rx frequency, working mode, Dec/Enc QT or DQT, Power, and  others.
For 32 channels, it is enough for commericial use. Neither too much or too little.
DMR model make easy to have group call and all call.
If you want to order the radios, that can talk with different group,  then you need to consider the DMR radio. DMR radio make it easy to make group call or All call.
For group call, you need to add all your team members into one group list, and in that channel, choose the same group list, then you and your team members can talk to each others.
For All Call, is almost like leader sends command. Your leader will set a channel with the All call, make the working mode digital mode, tx and rx frequencies same, color color and time slot same, even though the contact name is different. All your memebers can receive the command, but they can't reply on that channel.
Program the radio, you can find here: https://www.twowayradiocommunity.com/how-to-program-your-dmr-radio-rt43/
Standard Battey
Retevis RT43 DMR radio with the battey Li-ion DC7.4V 1400mAh. Also we offer the charger, you can easily charge your RT43 radio.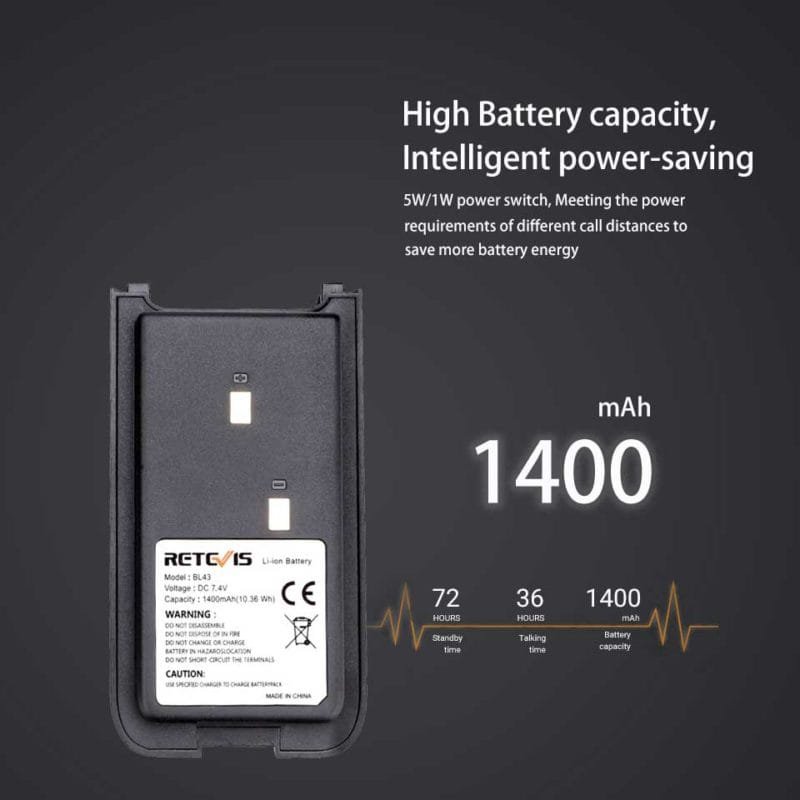 VOX function
This function can make your hands free. You need to set this function on the software, find the channel information, choose VOX to open it on.
I think this is very important for business use two way radios, not like the analog radio only, this Retevis RT43 has the Encryption, it has two types: Basic encryption and Enhanced Encryption.
About how to set the RT43 Encryption function, please click here: https://www.twowayradiocommunity.com/how-to-set-rt43-encryption-function/
At last, Retevis RT43 dmr radio is best radio for business! Any question, leave message below or email us: Partner@Retevis.com