We're so excited to invite the big fans of H777 as the first to experience its upgraded version — RT21 ! And kindly note that it's not too many days for special offer of RT21. Catch this chance and you will deserve a lovely gift from us .
So would you mind interacting with us by answering questions below ?
1.How do you like the appearance of RT21?
We believe Less is More. And we indeed try our best to put this concept into the appearance of RT21 .It's simple and easy to operate but textured and feels good . It has better quality than H777. It could suffer from one meter free fall, and continue to work without damage .
Also about the back of the RT21 , we designed the radio and battery as they can be charged respectively . Then if you have standby battery,it will not influence continuing using the radio meanwhile keeping charging the other battery .
2 .What's your ideal Communication Distance of RT21 ?
The communication distance could be effected by lot of factors ,such as the poor battery ,big buildings ,dense forests, bad weather or accessories quality , etc.
RT21's communication distance is about 1.26 kilometers ,but it could reach 2.1kilometers with an extended antenna (C9030A) for actual testing by us .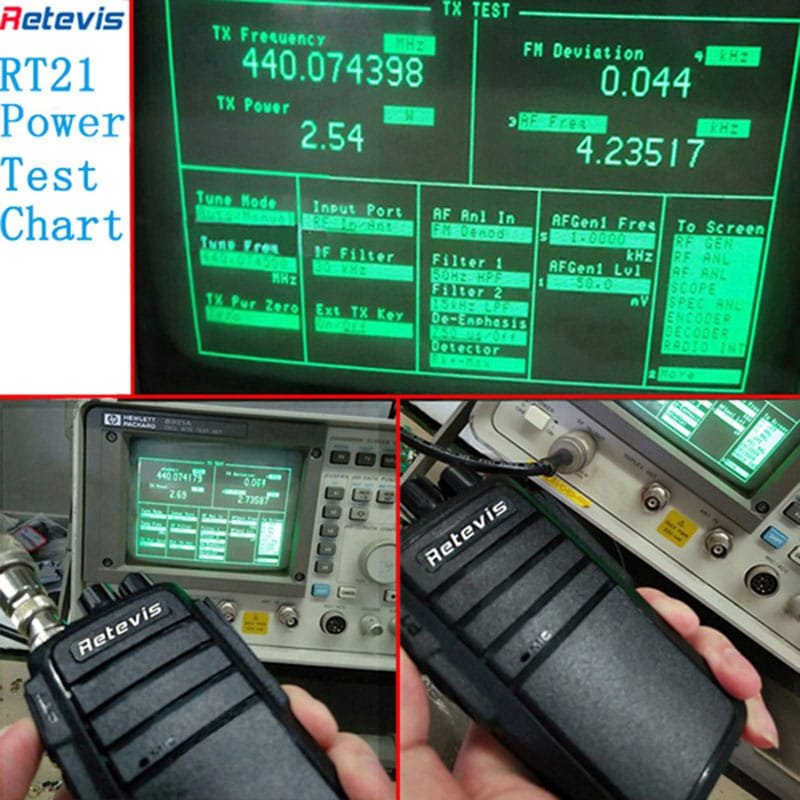 Just don't be disappointed about it ,anyway it is worth the inexpensive price ,right ? And it is enough to use for amateur customers .
3 .Ok , any comments for features below ?
1.Emergency Alarm:Give an alarm in case of emergency .
2.Busy Channel Lock : Lock a frequency , and no call will on this frequency .
3.TOT(Time-out Timer):To prevent transmitting for a long period of time and taking channels .
4.Squelch:Setting it to improve the call quality at different geographical conditions and environment .
5. Battery Save Function/Power Protection Function:Save and protect the battery power .
6. Low Battery Prompt:Notify the user of electricity usage in time .
7.English/Chinese Voice Prompt :To meet the diverse needs of more customers who are in different regions.
8. This two way radio is suitable for the storage, wharf, construction site, tourism, hotel, logistics, factory, etc.
9. VOX (Voice Operated Exchange) function : It makes your hands feel free and adjust the VOX level could control the background noise.
10. PC programming, achieve to set more functions by software.
11.Scrambler Function :One encryption of calling , to prevent others from eavesdropping. One multiple encryption except the sub-audio, analog and digital sub-tone encryption.
Welcome any comments to us .
Facebook : https://www.facebook.com/retevis/
Tweeter : https://twitter.com/retevis_com
E-mail : kam@retevis.com
Phone Number : 0371-60904058