Retevis RB27 GMRS Long-Range Two-way Radios with NOAA is a unique GMRS handheld radio
NOAA function and long-range decides to use for outdoor application if you need a GMRS radio for outdoor, Retevis RB27 is a great option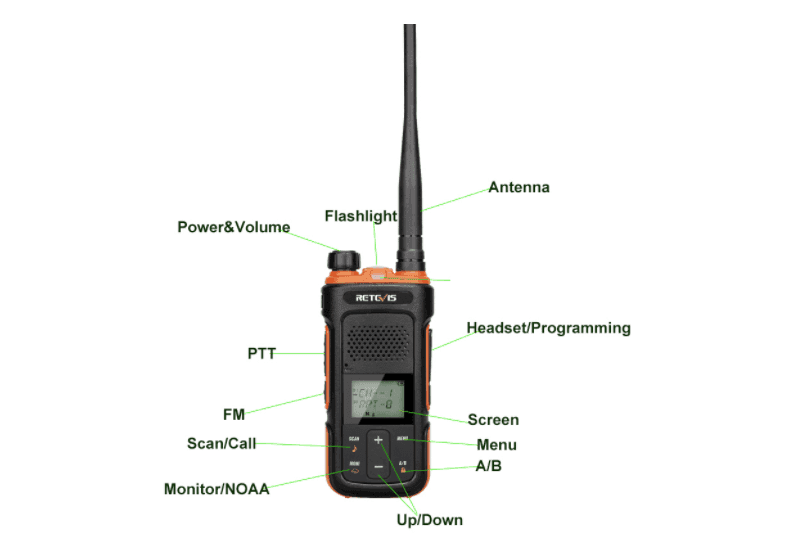 Main features
1. Rugged and pretty body
ABS material and thin body make you enough feeling when you touch it
2. GMRS band Licensed Two-way radios
Retevis RB27 is the GMRS band Licensed two-way radios, with 30 channels, High power 5W Long-range radio
3. Walkie Talkies Rechargeable
Retevis RB27 is a rechargeable two-way radio that can support USB charging. Support Type-C direct charging and charging dock. Very convenient to charge your RB27 when the batteries with low power.
4, Large-screen LCD display
Retevis RB27 with the Large-screen LCD display, help you to check your radio working channel and other information.
5, Dual Watch function
Set another monitor channel by hand and start Dual Watch, one channel displays while you could monitor two channels at once.
6, VOX Function
When hiking up a steep mountain trail with portable two-way radio, keep your hands free to brace the rocky terrain. When Active the hands-free communication, you can keep on moving without stopping to answer a call.
7, Keypad Lock
This function prevents your personalized settings from being inadvertently changed
The difference from other Retevis GMRS radio
1. NOAA weather Radio
Comes with 11 NOAA Weather channels, can help you know the weather in advance
2. Powerful flashlight
It has a flashlight function, which meets with you use outdoor in dark
If you want to learn more about Retevis GMRS radio pls click this link:
https://www.twowayradiocommunity.com/index.php/retevis-gmrs-walkie-talkies/
If you're interested in Retevis RB27 GMRS Long-Range Two-way Radios, pls catch time to order on www.retevis.com