Retevis NR30 is a high-quality Noise Cancelling Waterproof GMRS Radio that is designed to offer excellent noise cancellation and waterproofing features.
It is built to withstand the toughest outdoor conditions, making it an ideal choice for outdoor activities such as hunting, camping, and hiking.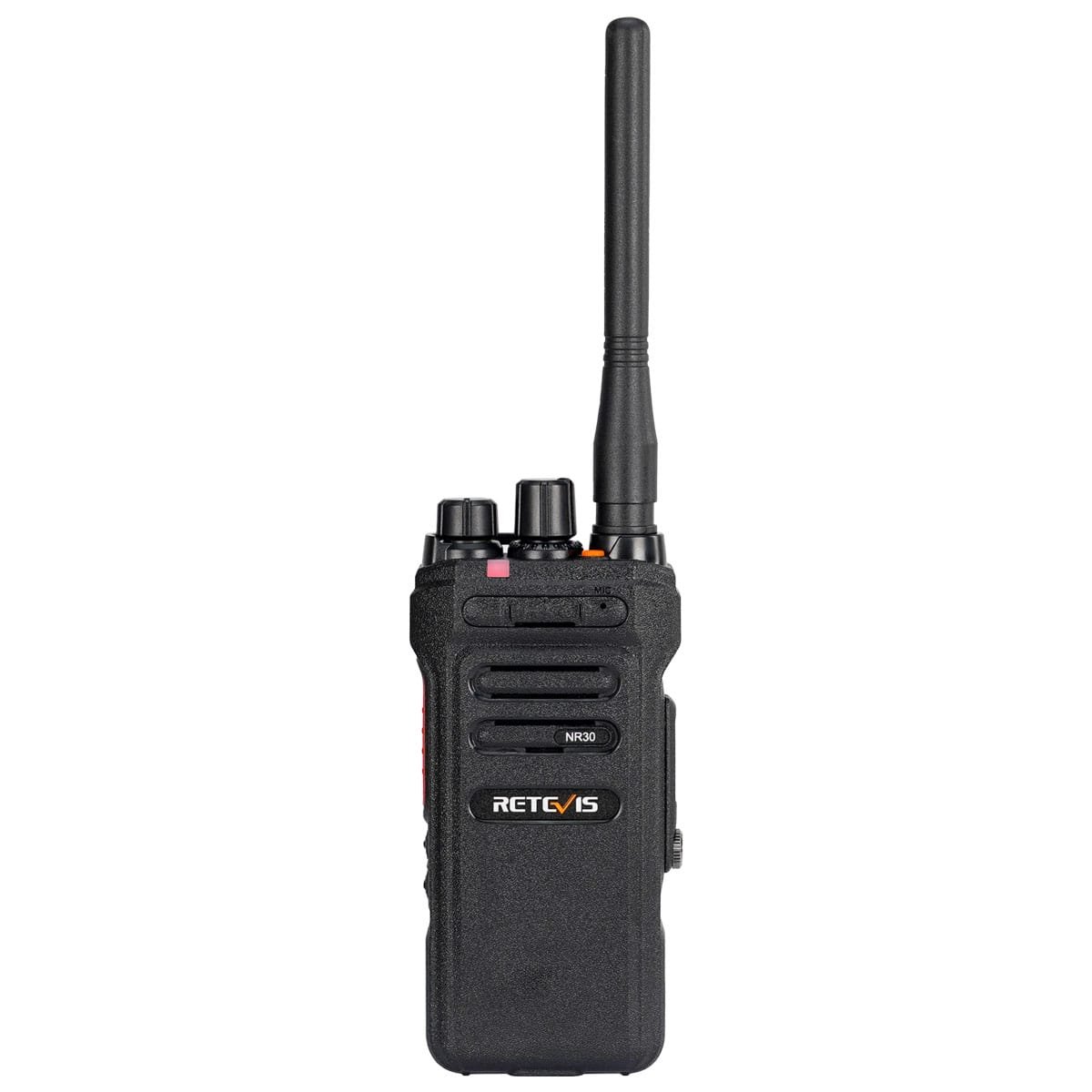 Package detail as below
1 x NR30 GMRS Radio
1 x Charger
1 x USB Cable
1 x Belt Clip
1 x User Manual
1 x Lanyard
1 x Adapter
Other accessories for option
1. programming cable
J9131P:https://www.retevis.com/hd1-dmr-radio-usb-programming-cable-us
2.C9086A wateproof headset
https://www.retevis.com/ea110m-ip66-waterproof-air-tube-covert-earpiece-with-gp328plus-connector-us
3. J9131A ear hook headset
https://www.retevis.com/hd1-ailunce-g-shape-ear-hook-earpiece-us
4. J9131K IP55 waterproof speaker mic and J9131G IP67 waterproof speaker mic
https://www.retevis.com/hd1-ip55-3-5mm-jack-speaker-mic-earphone-us#US-J9131KX1
https://www.retevis.com/h103m-ip67-speaker-mic-multi-pin-m5-for-ailunce-hd1-us
Main features
1. GMRS automatic noise reduction radio
The radio is equipped with a noise-canceling microphone that filters out background noise, making it easier to communicate with your team in noisy environments
2.IP67 waterproof level
The radio is IP67 rated, which means it is completely dustproof and can be submerged in water up to one meter deep for up to 30 minutes.
This makes it a great option for use in wet conditions, such as during heavy rain or when crossing streams and rivers.
3. far distance communication and 2800mah big battery
It boasts a range of up to five miles, making it an excellent choice for longer-range communications. It also has a sturdy, ergonomic design that is comfortable to hold and use for extended periods of time
Application scenario
Retevis NR30 is very suitable for a lot of people in crowded environments, like bars, discos, nightclubs, outdoor activities, and so on
If you're looking for a high-quality and durable GMRS radio with excellent noise-canceling and waterproofing features, the Retevis NR30 is definitely worth considering
————————–
Retevis welcome new resellers and OEM brand partners, to realize win-win cooperation, if you are interested in, please feel free to email to lewis@retevis.com