The Retevis RB47 is a license-free two-way radio with FRS band, no need to worry about licenses and fees. You can operate it easily and safely. It is compatible with other brands of FRS radios. Its IP67 waterproof design ensures durability in harsh environments, while its slim design ensures maximum portability. It's also great for staying connected over long distances.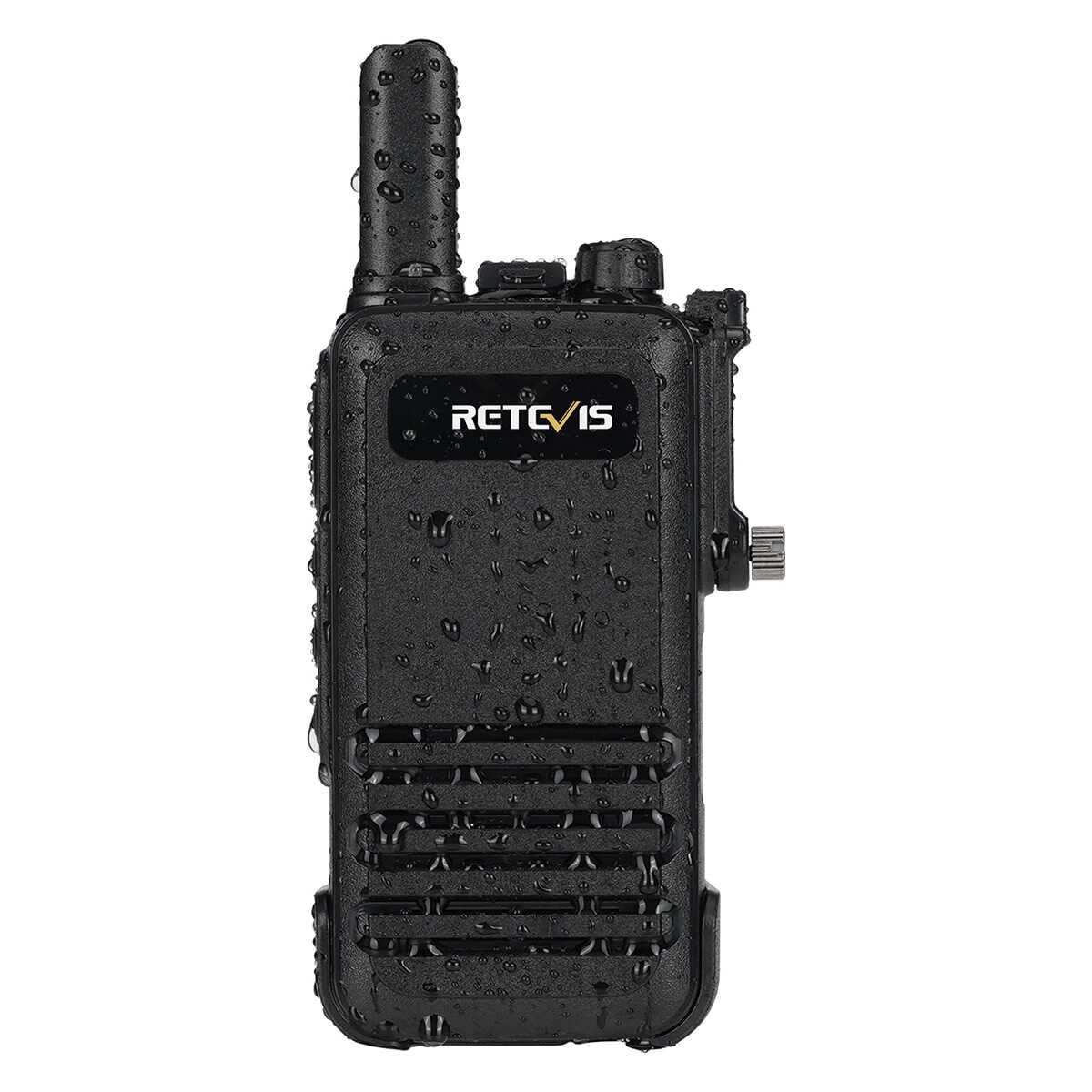 What functions does RB47 have?
Water-proof
RB47 achieves IP67 waterproof rating, use it in wet environment. It can still be used normally after being placed in one meter deep water for 30 minutes. Therefore, even if it is raining when camping outdoors, there is no need to worry that the walkie-talkie will be damaged due to the rain and cannot be used. Even if the walkie-talkie is accidentally dropped into the water while surfing at the beach, it will not be damaged, and it can still be used normally when it is taken out of the water.
Thin and easy to carry
RB47 adopts lightweight design, which is convenient to carry for a long time. The thickness of the walkie-talkie is 26.3 mm, and it takes up little space. The RB47 is also equipped with a back clip. When hiking, you only need to clip the tower to your clothes. It is very light, light and easy to carry. At the same time, you can also turn on the VOX function, and you can talk directly without pressing the ppt button. , free your hands.
One Channel Pair
One channel pair function enables you to communicate with other people using different radios.
How to use all channel pair
1.On channel 1, turn off two way radios.
2.Press the UP key and tum on two wayradios simultaneously.
3.Any two way radio transmits by shortlypressing the PiT key.
4.Two way radios normally communicate,one channel pairs successfully.
All Channels Pair
All channels pair function is convenient to achieve fast communication between team members without the computer, using the walkie talkie more easily.
How to use all channel pair
1. On channel 2, turn off two way radios.
2. Press the UP key and tum on two wayradios simultaneously.
3. Shortly press the PTT key of thetransmitter to transmit data.
4. Red indicator of the transmitterdisappears, pairing finishes
Large capacity battery and Type C charging
RB48 has 1000mAh Rechargeable Battery, Working time is up to 10 hours. Efficiently supports a full day of use without worrying about low battery power. Plus, you don't need to charge your walkie-talkie very often.
RB48 has USB-C Charging base allows you to choose to recharge the whole walkie talkie or the battery. In addition, the built-in security chip fully protects your walkie talkie from overcharge, overcurrent, short circuit,
Thank you for reading, if you want to know more about new products, you can read the next blog: