Retevis Long Distance Toy Radio RA35, is the new toy kid radio. It comes with two colors: Green and Black. Check the below picture.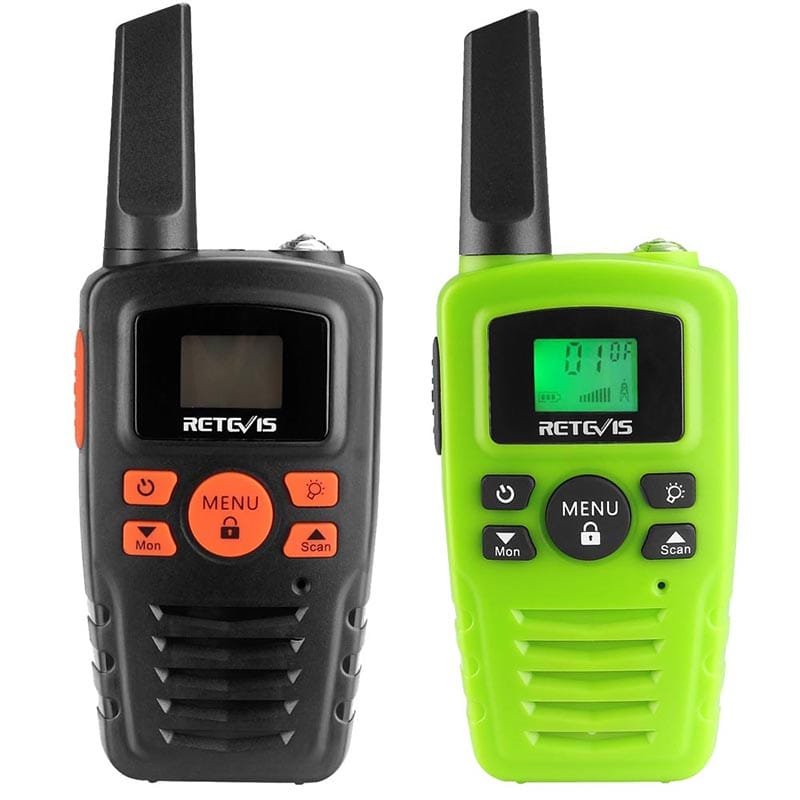 The best toy gift choice for kids
1, Simple design and easy to use
It comes with the simple design, only have 5 buttons in the front panel. The middle button is the button lock and menu button. Upper left is the power on/off button. Lower right corner is the down/ Monitor button.  Upper right is the flashlight button. And lower left corner is the scan and up button.
2, Perfect gifts for children
Kids will spend most of the playing times with this toy radio RA35. also will share and play with their neighbor friends. Also the best tool for family trip. RA35 is the great toy gift for both indoor and outdoor activities such as outoor games, spring outing and summer camping.
3, Stable signal, Clear sound and Long distance
This Durable toy radio RA35 is the real two-way radios. So It will help you to keep track of your kids while outside and out of sight.
4, Flashlight and Perfect Size
The flash light is great in the night time or when they are playing monster hunting games. They are the perfect size for her little hand and they are very useful at night if kids wakes up and needs to talk to parents.
5, Perfect for outdoor and indoor activities
No matter as the gift for family camping or spring trip, this new RA35 kids toy radio will help you. Comes with 2pcs in the standard package, parents keep one and kid take the other one. They can go exploring, playing. Just press to talk to your kids to keep in touch.
In one word. Retevis Long Distance Toy Radio RA35 is the easy to use, kid-friendly, and durable real walkie talkie.  If you have any questions about this model, please leave message below or contact us by email: partner@retevis.com