Retevis official website: www.retevis.com with a page about Resources-Center. This page will help people to download the software, firmware and find other information about Retevis radio.
But there still have people don't know where to find the right software to download. So here I will introduce this page to you.
There are 3 parts in the Resources-Center page
Programming Software
a, USB driver
There are 5kinds of USB driver.
If your radio's model didn't show in below picture, please choose the USB Universal Driver.

b, Programming Software
From the below picture, you will see the different model with the different software. And here including the firmware of some models. If you want to download the software or firmware, just make sure the model is right.
c, Chirp software
Some of our models support the Chirp programming software.
d, Retevis RT82 Alternative  firmware

This is the beta version firmware, if you don't have more experiences on ham radios, we don't suggest to use.
e, Retevis UseDB Manager
This software only support RT82. And only can be used with the radio with the CSV firmware.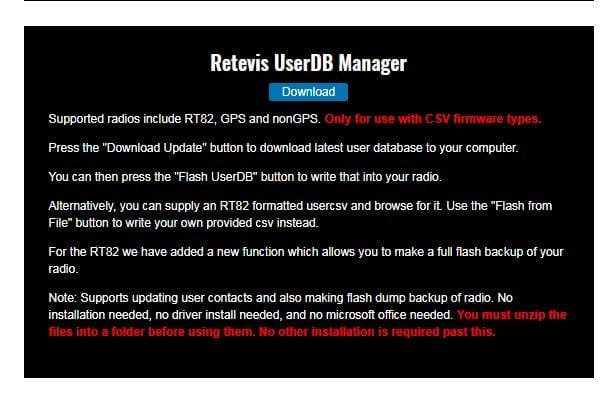 Manual
This part including the Radio's Manual and Retevis Brochure.
Brochure
There are 3 kinds for your choice.
Retevis Brochure: All Retevis products, including the ham radio, business radio, outdoor radio, kids radio and etc.
Ham radio: Only including our ham radio models.
Instructions: Retevis-WARNINGS
Manual
You can download the electronic version of the manual here.
 Accreditations
All the certificates about Retevis models. If you need, you can check here.

If  you have more question about Retevis, please contact us on facebook: www.facebook.com/retevis
Or you can leave message here or by email: partner@retevis.com