Repeater Capable GMRS Handheld Radio RB27 is the new low cost GMRS radio from Retevis.com. It is the handheld two-way radios, with 30 channels, and the last 8 channels are GMRS repeater channel.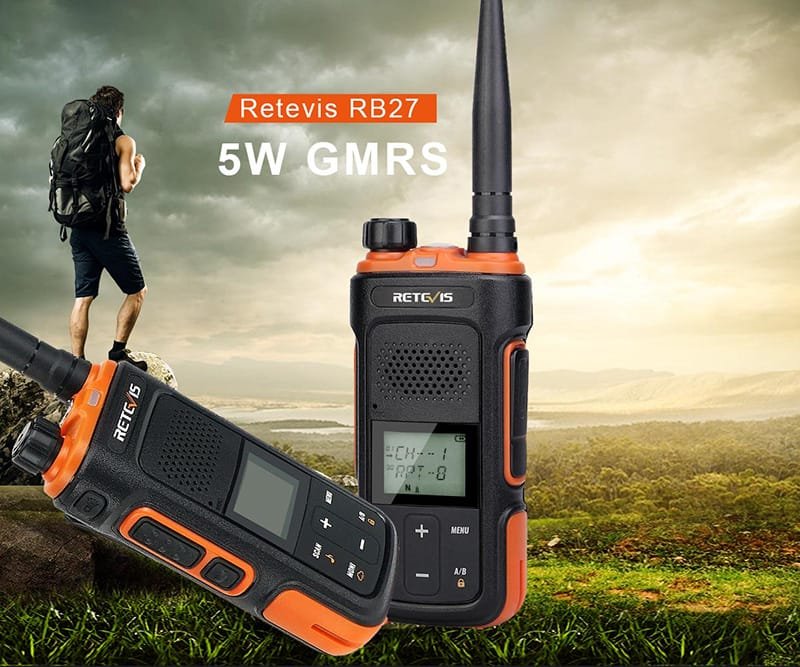 About Retevis RB27
The Retevis RB27 is built on the GMRS band, and will be the grear ideal for family outdoor, business applications such as hotel, retail, restaurants. GMRS band will be better than FRS band radio in communication range. It has higher power than the FRS radio, and have the repeater capable.
So when you choose the long range and want to connect with the repeater, GMRS band radio will be a good choice. And Repeater capable GMRS Handheld Radio RB27 will be a perfect choice.
ABout Retevis RB27 features and benefits
The UHF GMRS band
GMRS band use the 462 to 467 UHF band, Offers long and clear range communcation.
LCD display
Help you easy to view display, and provides the radio's status. You can check all the setting from the display. Like the working channel, standby channel, power, ctcss/dcs and so on.
Dual Watch Function
Dual watch means you can set two channels as the receiving channel, you can pick up the signal when either one has the signal.
NOAA Weather Channel
Offers 11 NOAA Weather Channel, you can switch and listen your local weather channel, help you to get the latest weather information.
About Retevis RB27 GMRS Repeater Capable
For GMRS radio, FCC allows you to connect with the repeater, so Retevis RB27 has the GMRS repeater function. The last 8 channels are GMRS Repeater channel.
About license
Lots of people worried about the license. For  GMRS radio, you need the license, but don't worry, it is very easy to get it. NO need to exam, just apply for the license from FCC. Pay a little money, you will get the GMRS license.
And when you has the GMRS license, you and your family can own and operate the GMRS band radio.