Focus on the series of blogs to learn what are the functions and features of the new RB22 Amateur radio, how to operate it on both radio and software, some expert reviews from influential hams and the real feedback, and some Q&A about the RB22 from our customers. If you have any questions about RB22 Amateur radio, please leave them in the comments.
We will start with the basic information and the functions of RB22.
RB22 radio is a DMR ham radio with a half-keyboard and a clear color screen. And you can receive analog calls and digital calls at the same time in VFO mode.
Other functions like roaming function, encryption, message, private/group/all call, FM radio, recording, emergency alarm, key lock, TDMF signaling, remote kill, TOT, scanning functions.
RB22 Basic information

Channels
4000Channels

250Zone*16Channels/Zone

Channel space
12.5kHz/25.0kHz
Frequency
range
UHF: 400mHz-480mHz
Working temperature
-20℃~ +60℃
Tx Power
High: 5W / Low: 1W
Size
102x54x35mm
Battery capacity
1900mAh
Weight
233.9g
Next, let's start with the Function shortcut keys.
6 buttons on the front panel
Menu
Standby
short press
main menu
long press for 3s
lock or unlock
In menu
short press
OK
Back
standby
short press
Open Zone list
In menu
short press
Back to the last page
VFO
short press
Programming the parameters
Green
Standby
short press
Enable custom functions
long press for 3s
Enable custom functions
Red
Anytime
short press
Cancel or return
VFO
short press
Adjust channels according to arrows
Standby
long press for 3s
Enter or return VFO mode
UP
Standby
short press
turn up
long press for 3s
Start scanning and channel up
In menu
short press
choose functions
Down
Standby
short press
turn down
long press for 3s
Start scanning and channel down
In menu
short press
choose functions
There are also 2 side buttons that allow you to select features based on your habits and preferences in the software. Please focus on Part 2: Software to customize the functions if you need help.
And then, let us know what function each symbol represents.
Look at the photo:
At the top, we can check the volume, time, and battery.
On the main screen, the channel number(CH14), zone number(Zone 1), mode(DN-digital mode), H/L power(Red The longer the progress bar, the higher the power), standby mode(White progress bar), and receiving(Green progress bar).
Menus and areas are accessible at the bottom of the screen.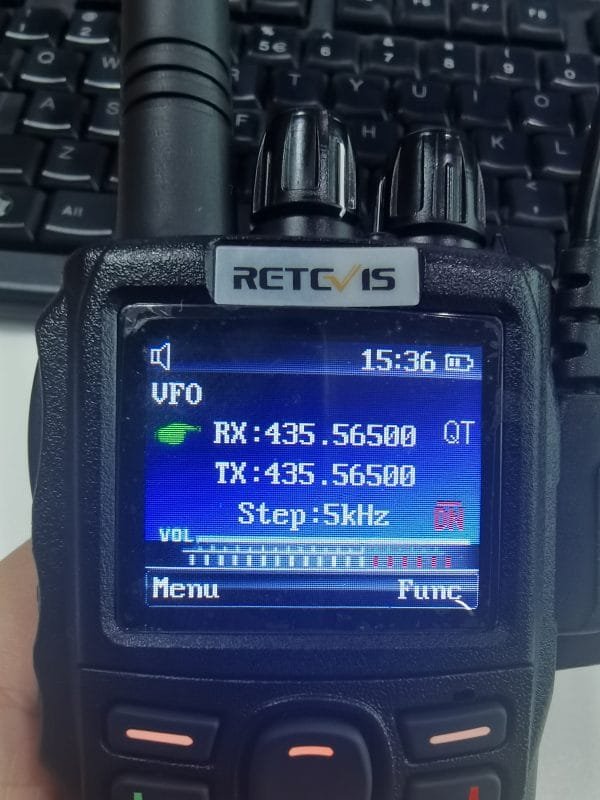 This screen is in the VFO mode, there is a green hand to indicate where you are working. And there is a VFO logo in the upper left corner.
And in the VFO mode, the back button is the function, and enter the function, you can adjust the transmit and receive frequency, the H/L power, and the color code, and you can even turn off the channel.
That's the end of the first part of the sharing, if you have any questions or concerns want to know, please do not hesitate to leave in the comments, or you can email us at support@retevis.com for a solution or a discount. And please follow our official website to get a discount retail price, follow our Facebook page to get the latest news and sharing.
Thanks.