Since the release of the last digital radio, it has been waiting so long, we finally made RB22 Semi-keyboard DMR Radio launch out. To let you be familiar with this new arrival, today we are going to have a quick view on the radio from its appearnace to its advantages.
Quick View On Appearance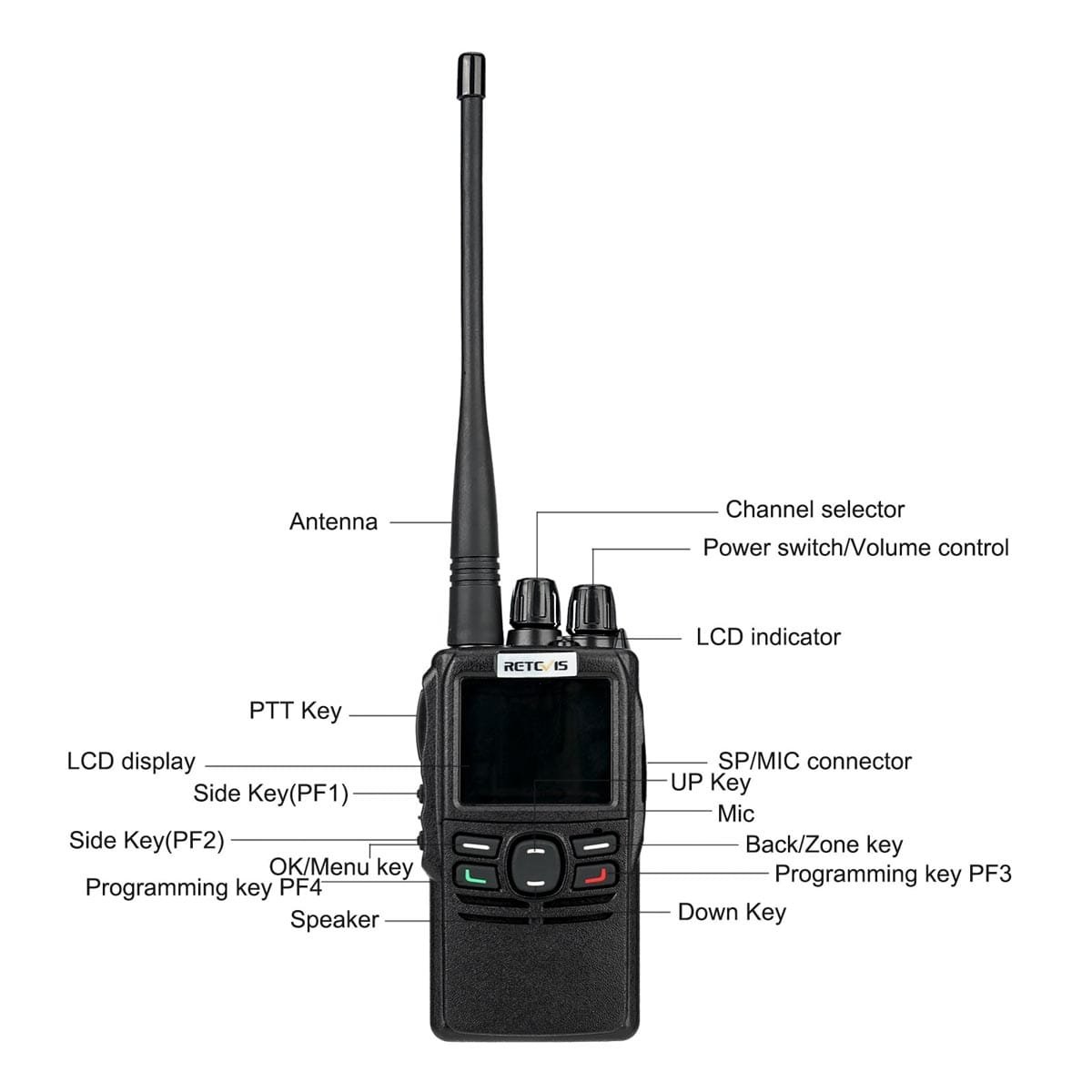 1.Clear LCD display
1.77-inch big colorful screen to check frequency and settings more easily.
2.Semi-keyboard
RB22 is the first amateur computer with a half-keyboard design, which in fact can achieve the effect of a full keyboard.
3.Unique Buttons and knob
On the top of device, there are two big knobs. One is to select channels, the other is to switch power and volume.  On the side, there are two programmable buttons to set shortcuts autonomously.
4.Detachable antenna
The antenna of RB22 can be removed and changed to a higher gain antenna.
5.Headphone Jack
With 2 Pin headphone jack, its compatible earpiece is C9219A 2 Pin Air guidance headset with Coil PTT MIC
Quick View on Advantages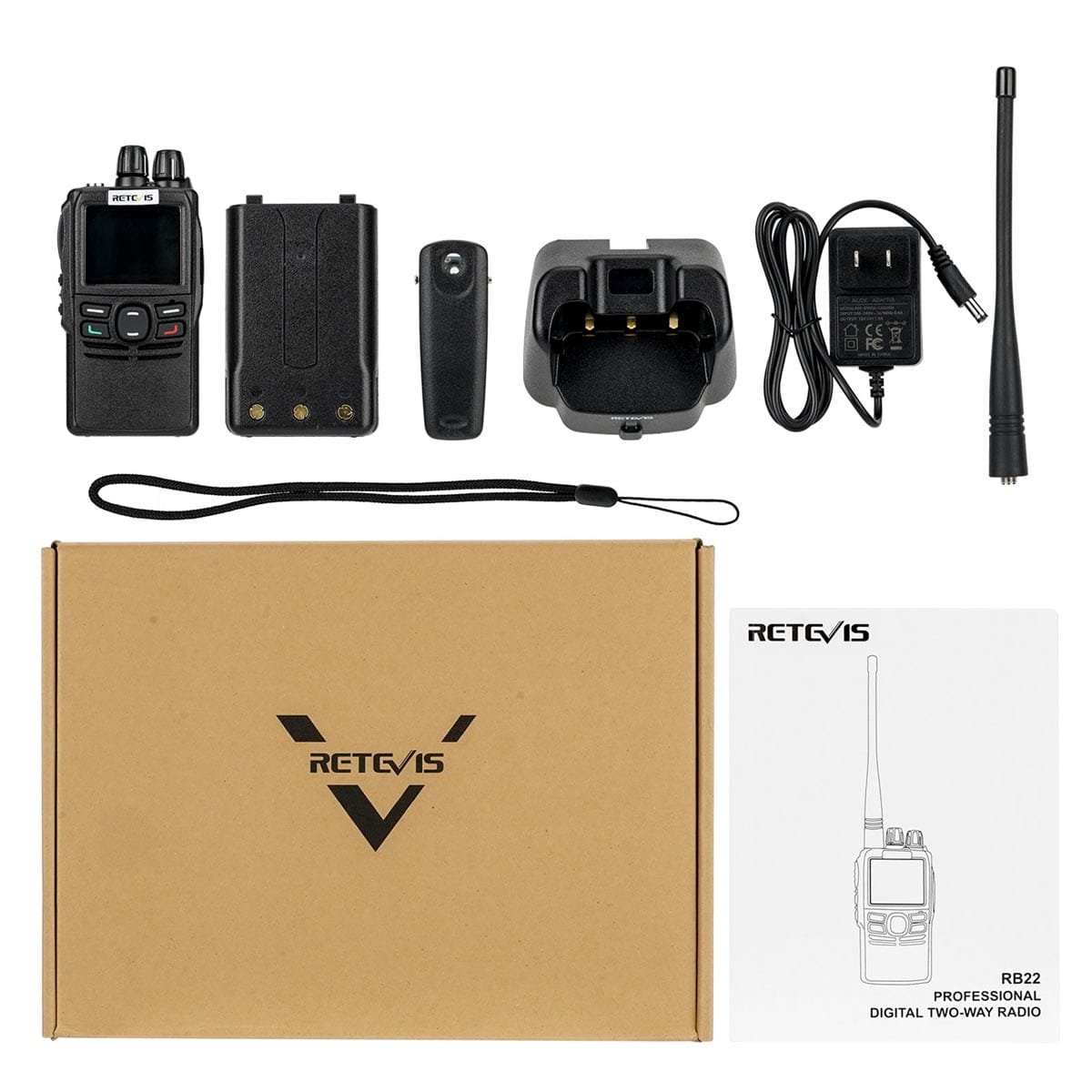 1.Support Digital & Analog modes
The RB22 DMR radio has both digital and analog modes. When it is changed to mixed (digital and analog) reception mode, it will support both analog and digital mode at the same time. In digital mode, it will allow more opearations, such as remote kill/stun/activate, single/group/all call, emergency alert and so on.
2.Up to 4000 Channels and 16 Zones
It has 16 zones, each zone has up to 250 channels, so in fact, it has 4000 channels in total. Users can program all the channels and zones according to their own needs.
3.Support TDMA Mode
TDMA stands for Time Division Multiple Access. RB22 DMR radio utilizes TDMA to allow several users to share the same frequency channel by dividing that signal into different time slots. Each frequency has a slot 1 or slot 2 and each slot can be used by different users. It can realize two sets of simultaneous communication at the same frequency point, which greatly improves communication efficiency and avoids busy channel and call interference.
4.Long Standby Time
RB22 comes with 1900mAh Lithium-ion battery, which enables it to have long standby time. According to 5, 5, 90 duty cycle, its high power (5W) can be used for about 11 hours, low power (1W) for about 13 hours.
5.Convenient Dock Charger
Its charging dock is convenient to charge your devices. The whole charging process emits less radiation than a phone that is connected to a mobile network.
More Features
Private Call/Group Call/All Call
Remote Stun/ Kill/Activate
Battery Saving Mode
Remote Monitor
VOX 1-12 Levels
Prompt Tone On/Off
Low Power Voice/Icon Prompt
VFO Mode
Call Alert
SMS
FM
…
Here is a simple show of RB22 Semi-keyboard DMR Radio
Thank you for reading this blog! If you have any questions, please leave your comments below. We are looking forward to your comments!
Relative Blog: LEARN WHY RT3S DUAL MODE DMR GPS RADIO IS ON THE RISE