The customer tells you how to properly upgrade RT3S firmware
One of the customers from Slovenia, who properly upgrade RT3S firmware and write this article, please refer to it for your upgrading instructions
Let me first point out that the procedure has already been described on several websites, including the SLO DMR forum. Therefore, I do not take credit for the procedure, but I will only copy what I used myself. First of all, I apologize for the records because I don't speak English but translate everything into English via Google Translate.
The following procedure for upgrading the Firmware is as follows:
The procedure is suitable for more experienced radio amateurs.
We must first install a USB driver to connect the station to a PC (if we have not done so before).

Install a software recording program on your computer beforehand.

Depending on whether it is a GPS station or not, download the appropriate station software (FW) to your computer

It is important to collect the right FW! from here: 
         RT3s Dual Band(UHF/VHF) DMR Digital Radio
When the station is switched off, press the broadcast key and the upper additional key at the same time and then switch on the station. The station switches to software recording mode in the station and the LED starts flashing red and green.
Start the recording software:
"C:\Program Files (x86)\FirmwareDownloadV3.04\DMR Firmware DownLoad v3.04_En".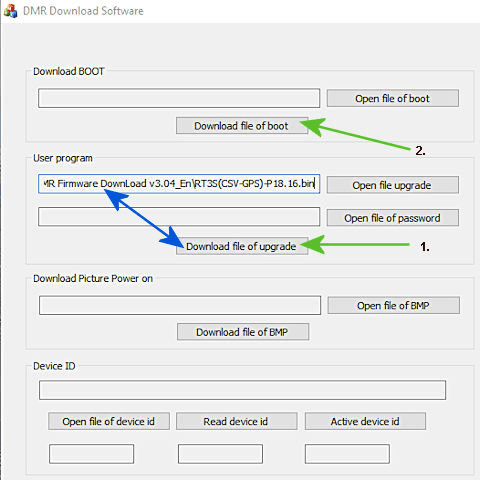 Select the correct FW and record to the station. Follow the instructions in the recording program.
When the transfer is complete, turn off the station and turn it on again, and the matter should be completed.
——————————————————————
Already posted online:
How to properly upgrade RT3S firmware – Retevis Blog
The right firmware for a station without GPS:
RT3S-firmwareV3.04\RT3S(REC)-D18.11.bin
Says for a radio station with GPS:
RT3S-firmwareV3.04\RT3S(CSV-GPS)-P18.16.bin
And if we want to record in the GPS version:
RT3S-firmwareV3.04\RT3S(GPS-REC)-S18.16.bin