Retevis always make improvement on products, make customers better and better product experience. Currently we make some improvements on RT35, as below:
Retevis RT35 improvements:
1.RT35 changed better chip and loud speaker, changed the backgroud color, make the background light more even and clear.
2.Communication range increased: testing on the seaside, 5km. In the city, around 2km(range based on real using environment)
RT35 advantages:
RT35 can set time showing and alarm clock on LCD display. Which other Retevis radios don't have.
How to programme  Retevis RT35?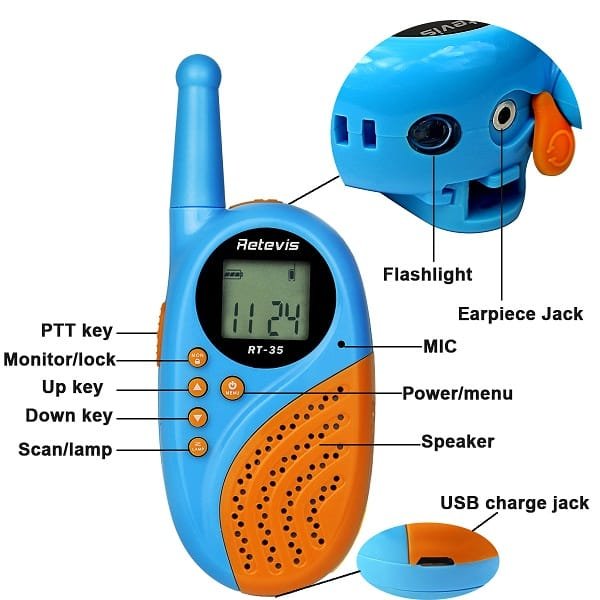 When standby, it's time shown in LCD display. RT35 can use as a watch.
1.menu–channel figure flashes–up/down kep to change channel figure
2.menu — CTCSS/DCS—up/down key to change CTCSS/DCS code
3.menu-call ring(when you press the PTT to call your friends in this channel, he/she will hear this ring, then based on the different rings in different channel, no need speak,he/she know who is calling)
4.menu –VOX—up/down key to choose VOX figure
5.menu–Pr(power)–up/down key to choose Hi/low power
6.Menu–transmit roger(when choose on, after finish pressing PTT key, your partner will hear a a roger ring, then he knows you have finished talking)
7.Menu –touch keyboart tone–choose on or off
8.Menu–time set
9.Menu–clock set–Y(means you need set the clock)–"-"(means you no need set the clock)
10.Lamp: short press it, the flash light on, short press again,flash light off
11.Scan function: long press"Lamp " key to start scan function,you can press up or down key  to change scan direction. (then radio will auto scan all the channels presetted inside)
12.Monitor: when you heard a weak signal, you can press this key to strengthen the receiving signal
13.USB charger port: you can charge RT35 using this usb charging cable
Getting above basic functions and settings for children's radio, please note tips below:
1.Communication: all Retevis children's radio is selling in pair. Setting for both two radios in pair is exactly same, please make sure both them are with same frequency and CTCSS/DCS, then they can communicate.
2.Initialization: If there's some unkown reason, that RT35 radio can not communicate, you can take out the battery, press menu key, at the same time, put inside the battery, then all RT35 setting will be Initialized.
Any other questions you meet when programming RT35, please feel free to email to kam@retevis.com, we are always here to help!