Retevis RB17A is the Powerful Long Range GMRS Two-way Radios. Not like the FRS band, our RB17A with the high power 5w. So the range will be longer than the FRS band radio. RB17A is a GMRS handheld radio compatible with all brands of FRS and GMRS radios. It is also compatible with GMRS repeaters.
Let's check the buttons of this long range GMRS radio RB17A: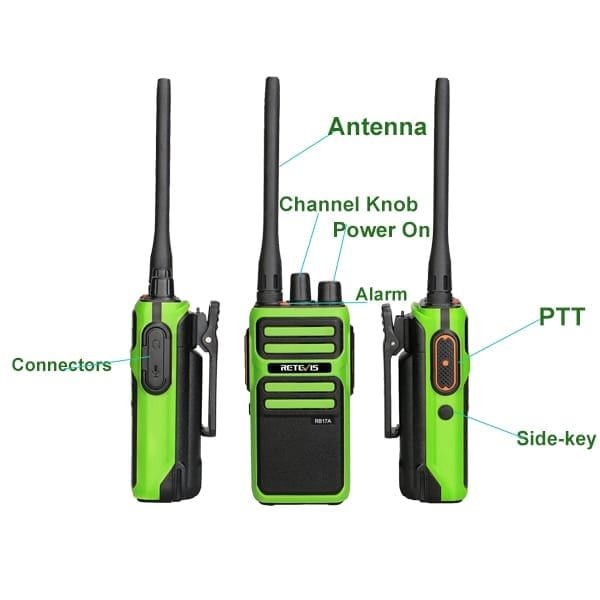 It comes with two colors: grass green and black. Not like the normal radios, it is very easy to find when you outdoor activities.
The right left with the Connectors, you can connect the earpieces or speaker mic, also the programming cable. And the right left with the PTT button and sidekey button. This sidekey button can be programmed with other functions via programming software.
The features of this Powerful Long Range GMRS Two-way Radios RB17A
1, GMRS Frequency
It has 30 channels GMRS frequencies, and last 8 channels are the repeater channels.
2, VOX
VOX canl help you Hands-free, Make outdoor activities more comfortable.When hiking up a steep mountain trail with this long range GMRS radio, keep your hands to brace the rocky terrain.
3, Alarm
RB17A has the local Alarm and remote Alarm function. Just press the alarm function on the top of the radio, the radio will send out the alarm radio. and press it again, the alarm turns off.
4, TOT
This function can prevent your radio has been used for a long time, protect your radio and radio's battery life.
5, SCAN
Add at least 2 channesl to scan function, then setup your sidekey button with the scan, then press this button, the scan active. If you want to check which channel has people, you can use this function.
6, CTCSS/DCS
Set each channel with the QT/DQT code, make your communciation more private.
RB17A also has other functions like the squelch, high/low power switch, BCL, Power saving function and others. If you want to know more about this radio, please feel free to leave message below or contact us on social media.