Portable Ultra-thin walkie talkie Retevis RB19
Some customers may think it's heavy and not convenient to take a big size and heavy weight walkie talkie. They prefer portable, small, thin walkie talkie. If Retevis has such walkie talkie? Yes, Portable Ultra-thin walkie talkie Retevis RB19 is suitable.
Features About Ultra-thin walkie talkie Retevis RB19
RB19 walkie talkies have a smooth and ultra thin body; you can put it in your pocket easily without snagging or bulging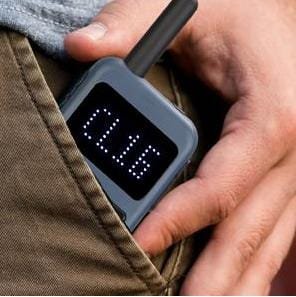 Easy to use walkie talkies;large display screen can clearly display the channel; volume; transmission status and other working status
Built in up to 1650 mAh lithium battery; single charge supports 10-12 hours of frequent use
Standard USB and Type-C interface; you can use mobile phone charger or laptop to charge it
FRS 22 channels;you can talk directly with retevis 22 channel walkie talkies or16 channel walkie talkies of retevis on channels 1-5
Stylish and durable back clip;ready to use without installation; convenient to clip on an apron or belt
50 CTCSS and 208 DCS reduce unnecessary chats; you can communicate more efficiently
VOX allows you to talk hands-free; you can turn it on or off directly
Key lock; you can long press the menu key to lock the button;prevent misoperation
Remote emergency alarm; in emergency, the alarm can be transmitted to other walkie-talkies on the same channel
Find blow a customers review about RB19:
These are great small Walkie Talkies with surprising range and clarity. My wife and I use them as "intercoms" when in different locations, i.e. house, yard, etc. For quality, function and value I doubt they can be beat.
Any questions, or any inquiries about Retevis RB19, please feel free to leave message under the post.