Many customers use walkie-talkies outdoors, such as sanitation workers, security guards, or construction workers, people often bring walkie-talkies when traveling by car.Whether it is entertainment or life, walkie-talkies have a place in everyday life. So when you work outdoors, which outdoor use walkie talkie should you bring? What characteristics are necessary?
1. High battery or car charger battery is necessary for outdoor use walkie talkie
If you work outdoors, charging at any time is very inconvenient, you'd better carry with a radio come with high battery, such as RT29, RT1, RB17. RT29 has 3200mAh battery, RT1 is 3000mAh battery, RB17 is license-free radio, with 4400mAh battery, is Retevis walkie-talkie with the largest battery capacity.Here is the link: https://www.retevis.com/Long-standby-Type-C-License-free-radio-RB17/
Or if you don't like high battery radio, you also can select a radio with a car charger battery eliminator, like RT5. Connect it into the cigarette lighter, move away from the original battery of RT5, connect them, then the walkie talkie can continue to work by transmit the electricity from the car, is apply to the radio amateur who always drive out for traveling, camping, fishing, hunting and so on.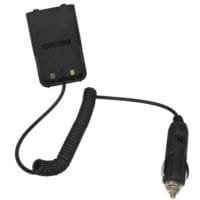 2. If possible, choose a waterproof walkie-talkie.
The waterproof walkie-talkie can protect your walkie-talkie from injury to a certain extent. For example, if you work outdoors, sudden storms can continue to let your walkie talkie talk to others. Retevis has many IP67 radios, like RT29, RT50, RT81…If you need a waterproof radio, you also can search on www.retevis.com, business listing, waterproof Radios, you will see all Retevis waterproof radios.
3. Light-weight radios are better choice.
Many people do not like to carry heavy walkie-talkies. If you use them outdoors, you'd better choose light-weight radios, such as RT22, RB15.RT22 is exquisite and compact radio, since good quality, many customers like it, RB15 also is mini radio, with vibration function, reminds the user when receiving signals. Avoid missing information, suitable for noisy environments. The sound quality of the radios is also very good, is highly cost-effective.
You might select outdoor use walkie talkies because of other factors. Anyway, as long as it meets your needs is ok. If you have any questions, you also can contact partner@retevis.com freely.