For hams, it's time to say goodbye to FM radio, and  say hello to DMR radio. So new to DMR, we recommend you start with this radio RT3.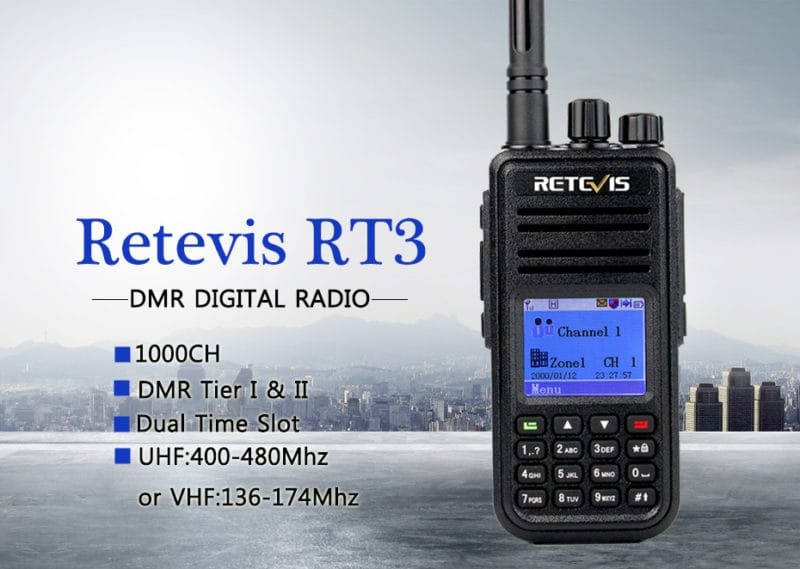 What is the DMR?
Digital Mobile Radio (DMR) is an international digital radio standard developed by the European Telecommunications Standards Institute (ETSI), and this standard:
Improved voice quality.(The voice tranmitted under Digital mode will be better than analog mode).
Improved functionality.( Like the GPS function)
Improved security.(Like the Encryption)
Improved channel efficiency (2 slot TDMA)
TDMA technology
TDMA stands for Time Division Multiple Access. TDMA provides two logical channels and each 12.5-kilohertz channel space (see diagram below). This provides a useful doubling of capacity within the same analog channel space.
Retevis RT3, the DMR amateur radio, with the 1,000 channels, LCD display, UHF band Or VHF band, with the GPS function option.
As a new DMR user
1,  You need to know Zone, Channel, Contact , Group call, Private call, All call and etc.
Zone: Retevis RT3 with 250 zones, and each zone can add 16 channels. You can rename the zone by yourself. For hams, you can rename the zone by the CQ zone. And for business man, you can rename the zone by the department name.
Channel: Retevis RT3 can save 1,000 channels. So you can talk to others with different frequencies or different settings.
Contact: The digital contacts, you can set it with group call contact, private call contact and all call contact.
Group call: Retevis RT3 can build the group call contact. The ID which in the same group call can talk to each other.
Private call: Retevis RT3 also can build the private call contacat, then you can talk to your friend with the private call.
2, You need to consider the

performance.
Amateur radio is a hobby, so when you want to get a new DMR, you need to consider the performance and price for it.
Now Retevis RT3 has the 50% off discount, for GPS version, Only USD59.99. And for Non-GPS, only USD49.99.
Retevis RT3 has lots of position reviews, with the high reputation on amateur radio.
For example:
Whoa. What an affordable way to jump into DMR. If you're looking to get your feet wet, without committing $500 to a radio – buy this. The radio feels well-built.
Have some fun with this RT3 DMR, I think you'll want to stay on digital once you make the leap!
Bought the Retevis RT3 because of its good reputation amongst other ham radio operators using it to learn digital mobile radio (DMR).
Retevis RT3 not only have the official firmware for hams to test, also have the open firmware like MD380 Tools firmware.
3, You can contact with your local ham club for help.
For new ham or new to DMR, sometimes it is difficult to program the new radio first time, so ask for help online or local club will be better.
If you need to get help on how to program your DMR radio, how to upgrade yourr dmr radio firmware, you can ask for help online facebook: www.facebook.com/retevis
At last, the 50% discount has begun, during this time 21st Oct to 31st Oct 2019, you can enjoy the 50% off discount. Please Snap up here: https://www.retevis.com/rt3-gps-dmr-radio-vhf-digital-two-way-radio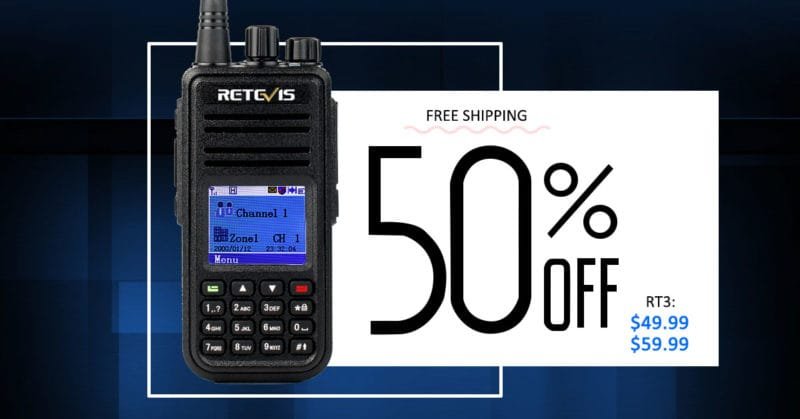 For bulk order, you can email us: partner@retevis.com